The Last Dance docu-series has provided a great solace to sports fans during the last month of lockdown.

The ten-part Netflix series, which follows NBA superstar and global legend Michael Jordan during his final season with the Chicago Bulls across their 1997-98 campaign, is evoking a lot of nostalgia amongst fans.

For anyone who was there at the time, the gravitational pull of Michael Jordan back in the 90s can't be overstated. Known as Air Jordan for the time he spent physically above the pitch, Jordan had numerous sponsorship and endorsement deals across his career, amassing a networth of over two-billion dollars. Really - how many over sports stars appeared in their own crossover movie with the Looney Toons?

The Last Dance has led to a sweeping resurgence in interest in Michael Jordan merchandise, with the star's key range - his Nike Air Jordans, sneakers which have been going strong in different models since 1984 - seeing perhaps the biggest boom of all.

But just how big has the impact of The Last Dance been on Air Jordans?
Impact of The Last Dance on the Popularity of Air Jordans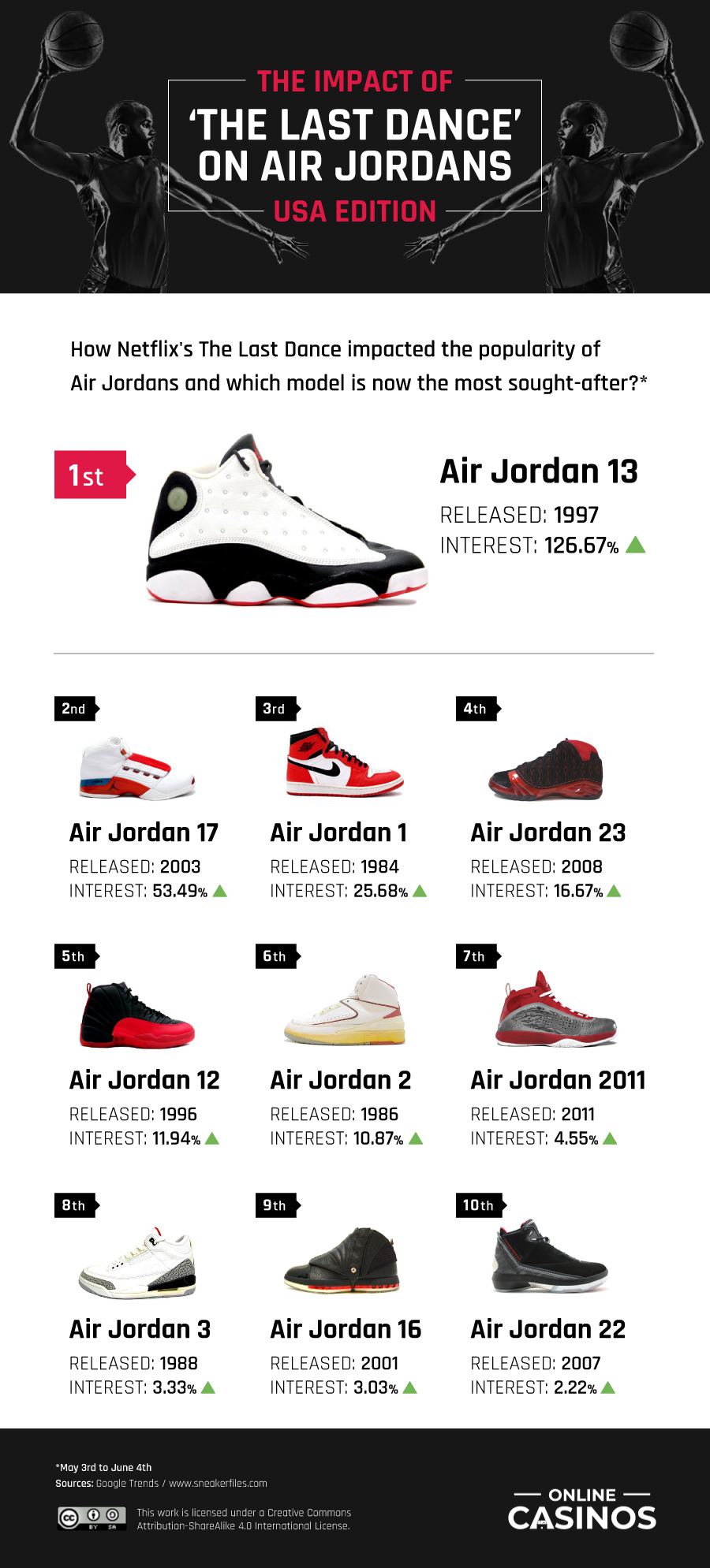 Taking into account Google search data from May 3rd, which Air Jordan has seen the biggest boost in popularity? Whilst the original 1984 version is still going strong, it's surprisingly not top of the court, with the 1997 version - the Air Jordan 13 - taking the lead with a whopping 126.67% increase!
There was likely a huge influx of new fans around the time of Space Jam in 1997 - could this interest come from these kids, now grown-up with disposable income, remembering a time when their Jordan-mania was at its peak?
The Most Popular Air Jordan Model in Each US State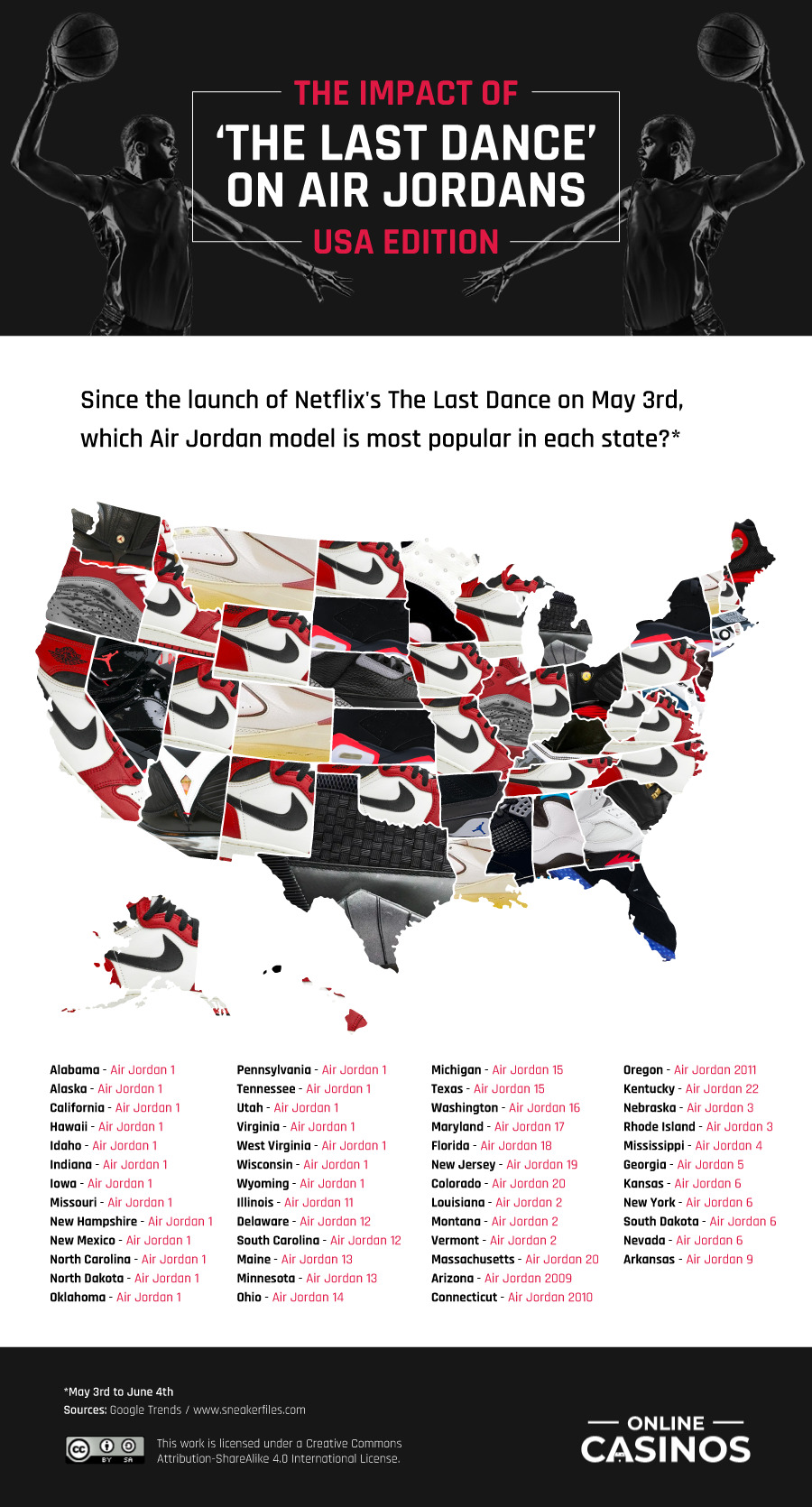 Impact of The Last Dance on the Popularity of Air Jordans - UK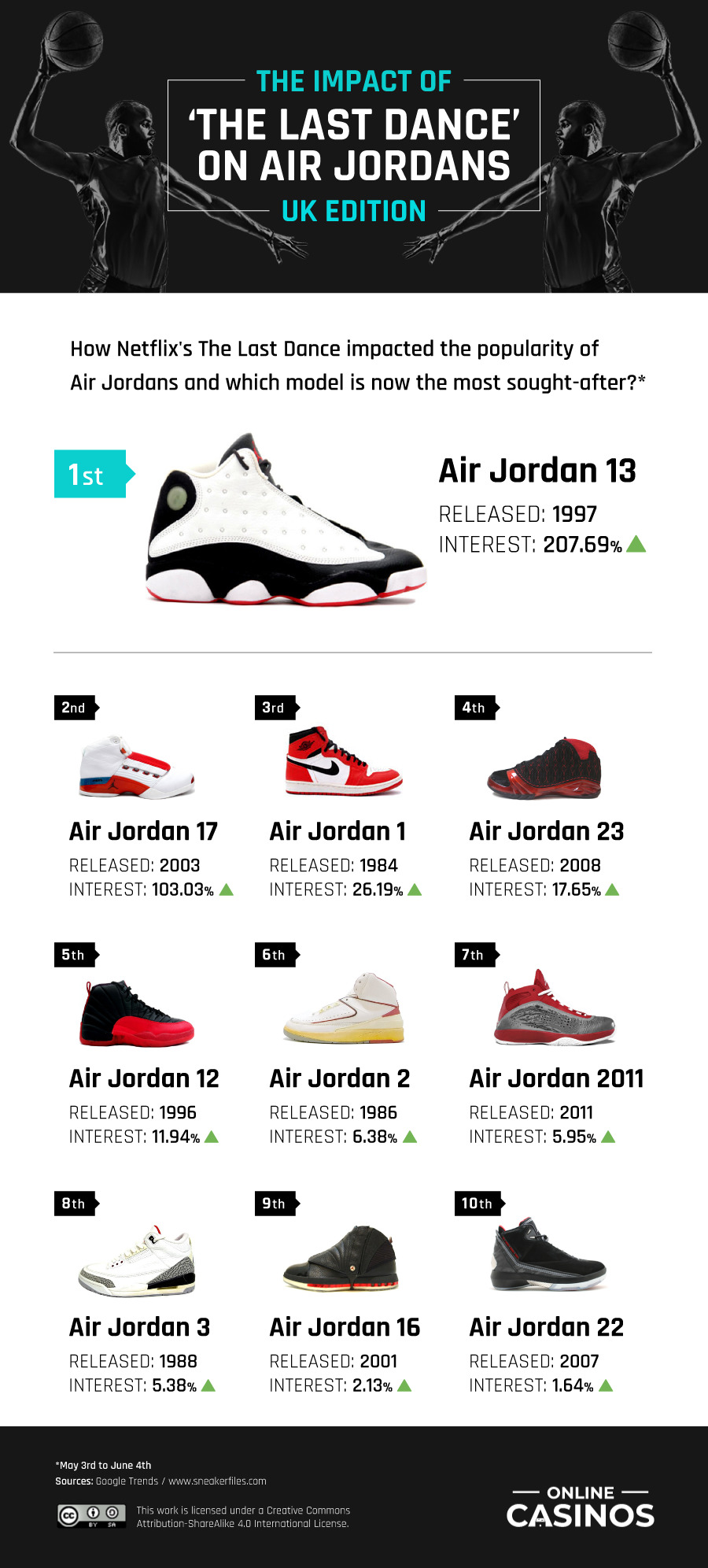 Michael Jordan was huge in the UK as well as USA - see the impact The Last Dance has had on popularity on this side of the pond too. As with the USA, the Air Jordan 13 Model comes out on top!
Methodology:
Google Trends data was used to find increased interest based on searches for each Nike Air Jordan model on the 3rd May and June 4th.

This work is licensed under a Creative Commons Attribution 4.0 International License.
More From Online Casinos