Online Slot Game Reviews
Reading reviews is one of the best ways to find the best online slots to suit your gameplay style. OnlineCasinos.co.uk is the ideal resource for anyone looking to find out more about the best online slots available in the UK today. By checking out our reviews you can get a comprehensive overview of some of the biggest online slots games available and ensure you're always playing on safe online slots sites.
What To Look For In Online Slots
Selecting the best online slots for you can be tricky, especially since there are thousands of digital casinos and even more slots games to choose from.
Some of the main criteria you need to consider when you start to play online slots UK are:
Mobile VS Desktop Gaming

The Type Of Online Slot Machines You're Using

Themes And Branding

Music And Sound Effects

Graphics and Characters

Bonuses And Free Spins

Special Features

How Many Paylines There Are

What Reviewers And Other Players Think

Volatility and Return To Player Rate

Whether The Game Is Available On Your Favourite Online Casino
By thinking about these criteria you can make the right choice for you. If you don't like an online slot, you can always stop playing and find another, provided you're playing on a reputable online slots platform. Most of the biggest slots usually offer a free demo version, so you can test out new slots before you start playing with money. You'll then be able to find the right games for you.
A major factor that affects your enjoyment of slots you play online is the platform you use. So, you need to take the time to find the right online casino site that works for you. When choosing an online casino, you need to make sure you check that the site is safe and will allow you to withdraw your money quickly and easily when you want to cash out. Also, look for reputable sites that conform to relevant UK gaming laws and are dedicated to cybersecurity, so they can keep their players safe.
Every site that OnlineCasinos.co.uk reviews is safe and fully compliant with relevant UK gambling regulations, so you know that you'll be encouraged to play responsibly and that your precious personal data will be secure. We offer honest and practical advice to help everyone, from beginners to seasoned slot game players, to find the right games the first time. We'll save you time on research and present the facts as we see them, so you can make the right choice.
Our experts are all experienced fans of online slot games, so they know what they're looking for and offer great advice that our readers can make the most of. We've also got exclusive bonuses that can help you make the most of your money when you start playing the best online slots that we recommend.
Best Places To Play UK Online Slots
All British Casino
As the name suggests, All British Casino offers casino slots that are from British game developers and designed with UK players in mind. Every game is played in English and you can withdraw your money in pounds. British online games are common, so the site has an incredible range of casino slots and roulette. There are also great tournaments on All British Casino, so you can pit your skills against other players. The site is very focused on slot machine games rather than other card and casino games, so it might not be ideal for anyone who wants to create that casino vibe, but there are plenty of fun games for anyone who wants to play slots online.
Duelz Casino
Duelz Casino is a truly unique online slot playing experience. The site has hundreds of popular slots, including some that are made especially for the site. What makes the casino truly one-of-a-kind is its 'duels' feature, where you pit yourself against other players for 10 minutes to earn free spins to use on the site's many slot games. This funky feature is what sets Duelz Casino apart from other UK online slots sites and makes it an ideal option for players who are eager to get as many free spins as possible. The site is fun and has many exclusive games that will entice a range of players.
Catsushi
Casushi is as quirky as its name and tagline 'the way we roll'. Combining a distinctive, colourful and cartoonish website design with its focus on zen and relaxation, the casino aims to offer a selection of the best slots and online casino games that players will love. The idea is to create the ultimate online gaming experience for everyone. Themed around sushi and Japanese anime culture, the site provides an interactive and unforgettable gaming experience for players who are focused on having fun while they play slots online.
Rainbow Riches Casino
Rainbow Riches Casino has more than 100 of the most popular slot games online, as well as live games traditionally found in casinos, like live roulette and blackjack. With bingo, poker and free games, there's truly something for everyone on Rainbow Riches Casino. The site also offers a popular app with mobile slots, so you can play wherever you are and get the most of your downtime. Every new player gets a welcome bonus, which can either be free spins on slot games or free bingo tickets, so you get great value and variety at this fun online gaming platform.
Fun Casino
With its simple interface and extensive array of slot games, Fun Casino is an ideal choice for anyone who's new to slots and wants to get started. The site is simple and easy to navigate, with bold headings taking you to the games you want to play. Whether you love slots online or you're looking for table games, slingo (slots combined with bingo) or more, Fun Casino offers it. The site is dedicated to providing access to some of the best online games available, so players have great options and can immerse themselves in playing their favourite games.
Yeti Casino
Yeti Casino might look cute and fun, with its sweet logo of a yeti and its relaxing blue background, but the site is ideal for players who want to immerse themselves in slots online and other casino activities like table games. Whether you want traditional slot machines or modern video slot games, Yeti Casino has you covered. The site also offers one of the fastest payouts in the industry, allowing players to withdraw their winnings within as little as 24 hours. That means playing on Yeti Casino can be a great way to have fun and earn some extra money to spend on the things you want.
The Grand Ivy Casino
If you're looking for an online slots platform that gives you that immersive real-life casino vibe, then look no further than the Grand Ivy Casino. This sleek and stylish site has the immersive ambiance of a real casino, and all the games to match. There are croupier characters to emulate real casino workers, and the developers have worked hard to make the site look and feel as much like a real gaming den as possible. Some of the best online slots are available on the Grand Ivy Casino, as are live poker, blackjack and other card games. There's a welcome bonus for new players that includes free spins, so you can jump right in and start exploring this fun virtual casino.
Dream Vegas
Dream Vegas offers a wide range of online slots and other games, with an extensive variety of options to suit every player. Whether you want high or low variance, branded or traditional slots, there's something for everyone on this fun site. This is another site with an authentic casino theme to make you feel like you're in Vegas. There are also great bonuses and plenty of bonus rounds and chances to earn free spins, so you can really get your money's worth when you play on Dream Vegas.
Mansion Casino
Mansion Casino is a great option for new players who don't want to place high bets but do want a fun introduction to online slots. With a great customer service team, a wide range of games not offered by many other sites, welcome bonuses and a mobile app that means you can play on the go using any iOS or Android device, this is an ideal casino for many players of all abilities. The betting limits on the site might be considered low for some high-rollers who want to place big bets, making this an ideal site for anyone who just loves variety and having fun, but isn't too invested in playing for high stakes.
Casimba
Casimba is a global virtual casino that's one of the most popular options for players globally. In the UK it has a cult following of gamers who love the wide variety of games it offers from almost every developer on the market. There's almost every casino game available, including slots, blackjack, poker, roulette and more on this fun site, as well as the user-friendly app. There's also the potential for a substantial bonus for new players, which means you can really make the most of your money on this great platform.
A Brief History Of Online Slots UK
Online slot games have a rich history that dates back many centuries, when gambling first became popular and old games such as Bragg, an early version of Poker, and betting games played on boards were enjoyed by a wide range of gamblers.
Casinos and organised betting didn't arrive in Britain until the 19th century, when gambling houses like Crockfords opened their doors. These spaces were dedicated to gaming and allowed players to enter and enjoy a variety of games.
These gambling dens were supported by wealthy patrons and usually restricted who could enter, making playing casino games a relatively high-end pastime for many decades. It wasn't until the Betting and Gaming Act of 1960 came into force that casinos became legally recognised and regulated, which is when they started to become more accessible to a wider range of players from all economic backgrounds.
Slot machines had been introduced in the late 19th century, with the invention of the first early model in 1891 as a device to automate poker. Because of the potential number of winning combinations, it became hard to automate poker on a machine, so a simpler version was created by Charles Fey from California, who created the precursor to the modern-day slot machine.
Called The Liberty Bell, because that was one of the main symbols on the machine, it quickly became a hit globally. Shortly afterwards, another version with patriotic American symbols was launched. Another version came out later that had the addition of a gum vending slot on the side.
Because the gum was fruit flavoured, the symbols on the machine were fruits such as oranges, lemons, cherries and plums. These fruit symbols were popular with players, and many other manufacturers added fruits to the reels on their slot machines. This gave rise to the term 'fruit machines' as an alternative name for slot machines.
These first slot machines were large and bulky, and had a lever that could be pulled down to spin the reel with a traditional 3 reel, 5 line structure. The winner was paid in coins through a slot in the bottom, which made a loud noise as the change jangled into the dispenser.
In 1963 the first electromechanical slot machine was unveiled, called Money Honey, which helped to revolutionise electric arcade games and make them more mainstream. Later, slot machines became more popular, and more inventors started to create new slot games that were enjoyed by a range of players. More options became available and brands, celebrities and pop culture icons started to get in on the action, lending their names to branded games.
After this latest innovation, slot games became increasingly common, and were often found not just in casinos but also in pubs, bars, arcades and other entertainment centres. Themes for these games began to emerge, usually around traditional symbols of good luck or cultures where luck is highly prized, such as Chinese and Irish culture. Other popular slots featured adventurers travelling to ancient tombs or taking on the jungle, as developers worked to combine action and adventure with the thrill of classic slot games.
The next major revolution in slot gaming technology came in the 1970s, when traditional slot machines advanced even further with the launch of the first video slot machine. Originally played on games consoles linked to the television, video slots moved onto the internet and slowly became more popular. As the internet became more accessible and faster, players started to prefer playing slots online or checking out mobile slots.
When the pandemic hit in 2020, virtual casinos became popular games for anyone who was stuck at home and wanted all the thrill of the casino without having to leave their house. Online casino searches - specifically relating to slots - were at an all-time-high during the lockdowns, which led many game developers to launch new online slots to keep up with rising demand.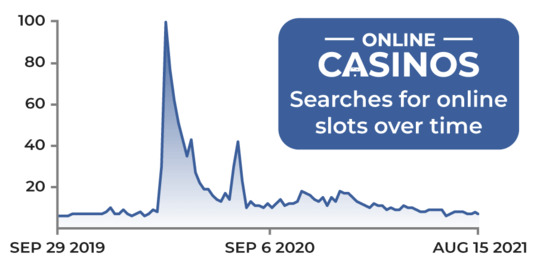 Today, when you play online slots UK, you know you're getting the best online slots on the market by using OnlineCasinos.co.uk. We showcase the best online slots and casinos, so you can find UK slots that suit your style.
Types Of Online Slots
Online slot games come in a variety of types to suit the huge range of players out there. Some of the most common are below so you can find out more and choose the best slots for you. You'll hear these terms discussed whenever you read articles about online slots, so it's worth knowing the different types of games you can play online and the benefits of each for different players.
Classic Slots
Classic slot games look like the physical fruit machines you've seen in pubs and bars, just on a screen instead of a machine. These games usually have a traditional 3 reel, 5 line set-up and are often themed around classic symbols of good luck or card suits. Generally speaking, classic slots don't have as many bonus features as other types of online slots, but they can still be a great option for anyone who's just starting to play online slots or who loves classic slot machines.
Branded Slots
Branded slots feature characters and stars that players know and love, such as musicians, film characters, TV stars and even superheroes. Branded online casino slots tie-in with a major franchise or link to a real person who sells the rights to their name and likeness. As such, branded games are a fun way to get into playing slots online, as they can be an engaging way to combine your love of pop culture with your enjoyment of online games. They're also ideal for anyone who's just starting to play casino slots, as you can find games that link to your other interests.
Video Slots
Like classic slots, video slot games resemble traditional fruit machines, but they are more interactive, and include animations, music and other fun features. Essentially, they're an upgraded version of traditional slots, and take advantage of modern animations and tech to create a unique gameplaying experience. Thanks to their innovative gameplay and quirky styles, video slots are the favourite slot for people who love interactive games and want to immerse themselves in slots online.
Jackpot Slots
A jackpot slot is a slot where you play to win potentially life-changing sums of money. There are two types of jackpot slots: progressive jackpot games and standard jackpot slots. Progressive jackpot games increase the jackpot every time you hit the right combination, so you get more money as you play. Standard jackpot slots don't have progressive jackpots; instead, they just offer a large payout if you land on a winning combination.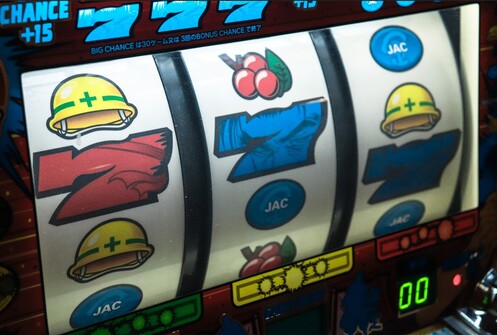 Related Online Slots Resources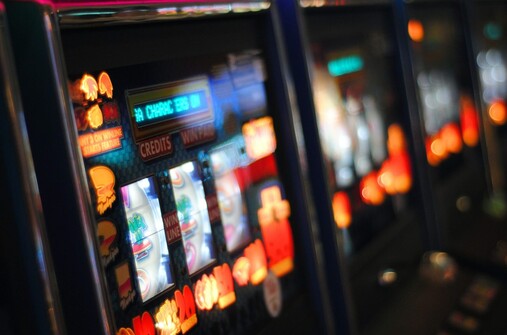 Our Commitment To Safer Gaming
Playing for real money on online slots comes with a level of risk, but players need to feel safe on casino sites and know how to play responsibly. That's why OnlineCasinos.co.uk is committed to helping our players have fun when playing slots online.
Our casino reviews mean that you can check out sites before you start playing on them, and find secure sites that have all your favourite games.
We also offer a blog with plenty of casino tips and ways to stay safe while playing online slots, so you can have fun and enjoy yourself!