Live online roulette is a great casino game that's convenient for you to play. It's the closest you can get to the experience of a land casino from the comfort of your home, bringing you all the fun of casino gaming from your phone, tablet or computer.
Our guide not only lists the best sites that you can play live roulette online at but also includes some top tips to help your gameplay, so you can have a fun gambling session.
We've provided you with all the information you need to know how and where to play live roulette. All you need to do is absorb our tips, pick your sites and then choose your games.
How we review live online roulette casino sites in the UK
OnlineCasinos.co.uk has an industry-leading process for reviewing casino sites. We review sites by assessing them against all of the things you care about, including:
Games

Bonuses

Payouts

Banking

Security
Everything that goes into our reviews is about giving you the information you need to make a fair, balanced and accurate decision about whether a casino is right for you.
You can find out all of the things that go into our reviews by heading over to our online casino reviews page.
Introducing you to the OnlineCasinos.co.uk reviews team
The OnlineCasinos.co.uk reviews team is composed of a group of gambling experts.
Our experts are knowledgeable, thorough and enthusiastic. They know the technical details of gambling sites but they're also people who adore playing casino games and placing sports bets.
This combination of industry mastery and gaming fervour means that our team is uniquely placed to bring you reviews that give you a fair assessment of every site we cover.
What is live online roulette?
Live online roulette is pretty much what it sounds like. It's a game of roulette that is played over the internet at an online casino, but with a live dealer and a real roulette wheel and ball.
It's not hard to explain the appeal of live roulette at casino sites compared to roulette at a land casino. Offline roulette is a great game if you like the atmosphere (the sight, sounds and feel of the casino and your fellow players) of a land-based casino.
For those who choose to stay home and away from the crowds, live roulette at online casinos is a convenient way to play this classic casino game.
The three roulette table layouts
Roulette is a great game played in casinos across the world, both online and in real life. The roulette table is an integral part of the game and there are three different layouts used. These are three table layouts used in roulette:
American roulette

European roulette

French roulette
Each of these three versions of roulette allows you to bet on numbered sections ranging from 0-36. Where they differ is in the green zeros on their roulette wheel. This is with respect to how many there are, the impact this has on the house edge and what happens when you land on it.
American roulette
There are two green zeroes. This means your odds of hitting a single number is 37/1 and the house edge is 5.25%.
European roulette
There's one green zero. This means your odds of hitting a single number is 35/1 and the house edge is 2.6%.
French roulette
There's one green zero. This means your odds of hitting a single number is 35/1 and the house edge is 2.7%. However, if the wheel lands on the zero then you don't necessarily lose your 50/50 (red/black or odd/even) bets. Depending on the rules used, you may get a La Partage if the zero comes in and this means you get half of your 50/50 bet back.
Great online roulette games you can play live at casino sites
Roulette is one of the most popular games at online casinos and many sites have a great collection of live tables you can play at.
While the roulette table layout of live roulette games will broadly be one of American, European or French, the actual games you can play vary enormously.
These are some of the great live games you can play at UK casino sites:
American roulette

European roulette

French roulette

Immersive roulette

Lighting roulette

Mega Fire Blaze roulette

Mega roulette

Prestige roulette

Quantum roulette

Ruby roulette
You can find out what online roulette titles are available at the casino of your choosing by heading to the live games section of the site.
What to consider when choosing a live online roulette casino
Playing online roulette live at casinos provides you with a gambling experience that mixes the unpredictability of gambling chance with the studious approach of strategic gaming.
But it's not a simple case of picking an online casino, heading to the live games section and selecting a roulette table (though, it can be). There are some considerations to keep in mind when choosing an online roulette casino and these are the main ones to be aware of:
Opt for a reputable online casino that's safe and secure

Decide what type of roulette table you want to bet at

Review the online roulette game payouts on offer

Pick games with a minimum betting limit you're comfortable with

Select a deposit and withdrawal method you trust

Consider if you want to sign up for any bonuses
Remember these things when you're reviewing the best casinos for online roulette and you'll have a great chance of picking one with the live games you want.
Main bonuses you can use when you play live roulette online
Bonuses are offered by all of the best online casinos. Casinos offer bonuses to their players because they give you a chance to boost your bankroll, increasing the funds you have to play your favourite games.
There are many different bonuses you can sign up for and these are the main ones you can use when playing roulette live online:
Welcome bonuses
A welcome bonus is available to new players only. While these offers can be for cash or free spins, when it comes to online roulette it's the cash welcome bonus that you'll be able to use for live games.
No deposit bonuses
A generous casino bonus because it doesn't ask you to invest your own money to get the benefits of the reward, a no deposit bonus is something of a rarity at online casinos. If you see a no deposit bonus then make sure it's for a cash amount if you want to use it for online roulette games at live dealer tables.
Live roulette games casino payout rates
Payout rates are something you need to be aware of when picking a casino site to play online roulette games at live tables. The reason you need to be aware of payouts is that they tell you what your chances are of winning when you play a game.
Casino payout rates are also known as RTP, which stands for return to player. RTP is the percentage at which bets are returned to players over time.
Using the example of a £100 bet, this is how RTP works in practice:
90% RTP: £90 is returned to players over time.

94% RTP: £94 is returned to players over time.

98% RTP: £98 is returned to players over time.
You might be saying to yourself "so, I won't ever make a profit from a casino game unless it has an RTP of over 100%?" The truth is RTP is just an indication of a casino game payout.
What you have to take into account is some players have successful gambling sessions that see them beat the RTP while others have unsuccessful ones that see the RTP beat them.
Our top tip for using online roulette mobile casinos
Mobile gambling is one of the greatest appeals of using online casinos to play casino games. Being able to bet on your phone means you can play online roulette live wherever and whenever you want to, whether you're stuck at home or out on the road.
Our top tip for using mobile casinos to play live games of online roulette is to decide which of the following two methods you want to use:
Mobile browser

Online casino app
The upside of using a mobile browser is it doesn't take up space on your phone because you haven't downloaded additional software. The downside is your gambling experience might not be as good because the games may not be built with mobile gaming in mind.
The upside of using an online casino app is it's designed for mobile gaming, so you should get a better gambling experience on your phone. The downside is you lose space on your phone because you have to download the app.
Why do online roulette players prefer live dealers?
There are some important reasons players would prefer to play with a live dealer.
The main reason many online roulette players enjoy live dealer roulette over regular online roulette is they can feel more excitement when they can see an actual ball on a real wheel instead of animation. Animation, no matter how real, simply doesn't feel the same. Moreover, minor delays in motion can make the whole spin seem fake and even like the spin was altered at the last moment.
Another reason online roulette players prefer to play live dealer roulette is the social aspect. Some live online roulette rooms allow players to chat with each other. When players can chat then they feel a sense of camaraderie. It makes the game much more fun and helps players to feel they aren't isolated.
This is important because people who play online casino games at home can feel isolated. The social interaction of playing online games helps them keep in touch with the outside world and even make some friends!
Recent online casino regulation for UK sites
UK sites are subject to online casino regulation imposed and policed by the Gambling Commission.
The Gambling Commission is a non-executive body of the UK government and it regularly reviews the legislation around all forms of betting in England, Scotland, Wales and Northern Ireland. The Gambling Commission adopts this approach because it exists to protect UK players and it must be certain that its regulations do this.
February 2021 saw the announcement of new gambling restrictions for online casinos. The purpose of these restrictions is to lower the intensity of casino games through the below measures:
Requirement for operators to clearly display to players any losses they've made

Introduction of limitations on the spin speed of slot games

Permanent banning of features designed to quicken gameplay

Permanent banning of features that salute game/player losses
You can find out more about the recent online casino regulation for UK sites by visiting the Gambling Commission website. It has a helpful 'news' section on the site where it publishes "news, speeches and announcements from the Gambling Commission".
Gamification factors at live roulette online casinos
Gamification factors aren't exactly new to the gambling industry but they're becoming more widespread among online casinos.
Online casinos use gamification to make the games they offer more unique, engaging and fun for their players. Casinos add new features designed to keep players engrossed for longer and reduce the chances of them switching to another site.
Live games with real dealers are an important part of the increasing gamification of online casinos. Their presence on sites adds to the gambling experience casino sites offer their players by giving them sessions that are closer to that which they can get at a land casino.
VR seems to be the gamification factor most likely to develop in the area of live gaming. The reason is that VR casinos bring players closer to the experience they get from a land casino, as they can sit virtually at a table and feel as though they're really in a casino.
Best online casinos for playing roulette live
More and more online casinos are offering live dealer games such as roulette. Some of them offer online roulette with live dealers broadcast directly from real land-based casinos around the world.
Below, we've highlighted some of the best casinos that offer online roulette games with live tables:
The Sun Vegas Casino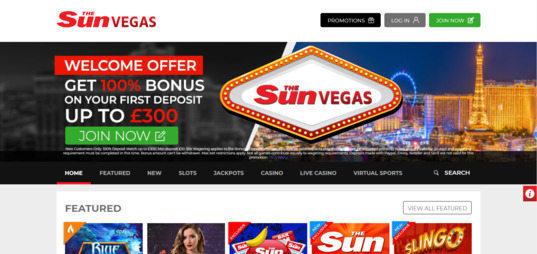 Credit: The Sun Vegas Casino
The Sun Vegas Casino is an excellent site if you enjoy playing roulette at live dealer tables. It has a superb selection of live games and has been known to offer VR roulette games.
These are the three things that'll impress you most about The Sun Vegas Casino:
Excellent choice of live roulette games

Fine selection of jackpot games

Some ace virtual sports games
Casino rating: ⭐⭐⭐⭐⭐
Check out our The Sun Vegas Casino review to see what will impress you about this site.
PlayOJO Casino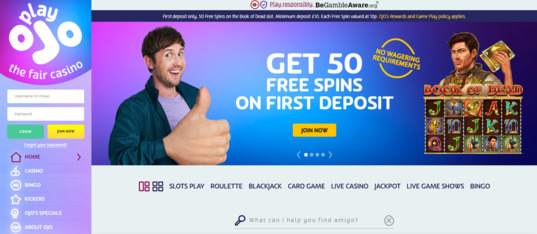 Credit: PlayOJO Casino
There are few better sites for live casino gaming than PlayOJO Casino. Not only does it have lots of roulette, blackjack and poker tables but the site is also known for being one of the top no wagering casinos. This means it's likely there won't be any wagering requirements for its bonuses.
These are the three things that you'll most enjoy about using PlayOJO Casino:
Great selection of live dealer games

Excellent customer support team

Really simple to use app
Casino rating: ⭐⭐⭐⭐⭐
Read our PlayOJO Casino review to find out what else you'll enjoy about this site.
Yeti Casino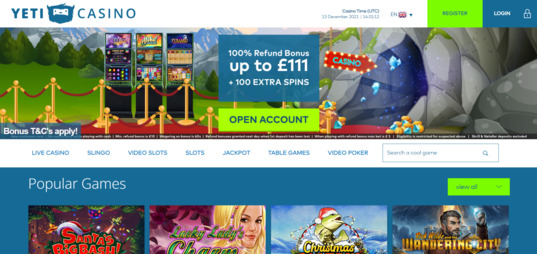 Credit: Yeti Casino
Yeti Casino was launched in 2017, making it a much newer site than some of its gambling site peers — for comparison, 32Red Casino went online in 2002! Yeti Casino has quickly earned a reputation for offering a great gambling experience, with plenty of ace roulette games for live players.
These are the three things that you'll like most about Yeti Casino:
Lots of online roulette games for live dealer table fans

Some impressive jackpot slot games

Solid selection of slingo bingo games
Casino rating: ⭐⭐⭐⭐⭐
Cast your eye over our Yeti Casino Review to learn the other things you'll like about the site.