With the world having fallen in love with the concept of Love Island - the show that houses a group of beautiful young people on an island, in a bid to win the show by finding love - Love Island is now on it's second series in the USA, with this year's series taking place in Las Vegas, due to the pandemic.
The cast members of Love Island USA Season 2 are already receiving lots of media attention, but which contestants are the most popular with viewers on Instagram? And which are set to earn the most as an influencer?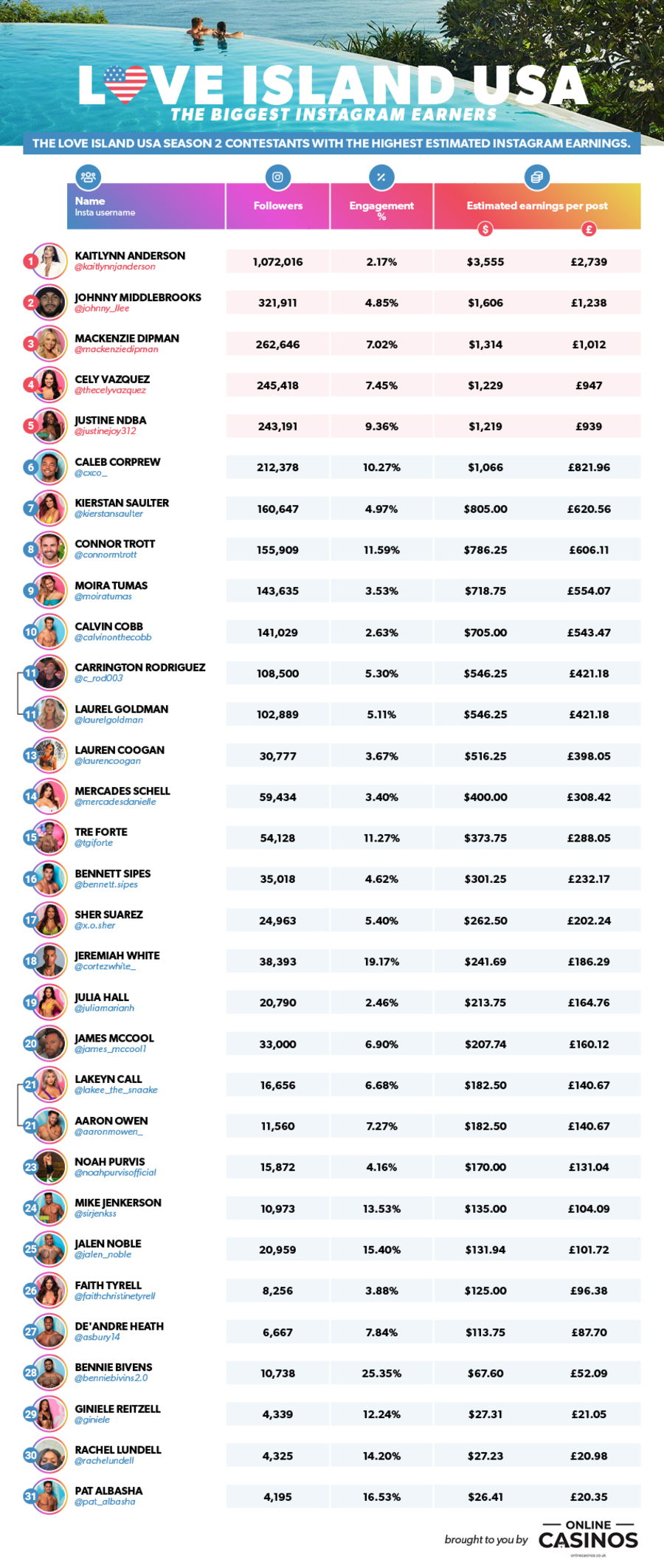 Top 3 by followers:
1. Kaitlynn Anderson
27 year old Kaitlynn Anderson is from Michigan and works in promotions. Entering the house having spent the last six years single, Kaitlynn is ready to find the one. Kaitlynn now has 1,072,016 Instagram followers, with estimated earnings of up to $6,748.38 per post.
2. Johnny Middlebrooks
Johnny is a college athlete, and aged only 22 years old, has a reputation as a player in the game of love. Johnny has accrued 251,891 followers on Instagram, which works out as $1,585.66 per post.
3. Mackenzie Dipman
Mackenzie, a 24 year old student from Arizona, is set to be earning a pretty cushty sideline income by herself - up to $1,356.85 per post from her 215,542 followers.
METHODOLOGY:
We took each contestant's follower count directly from Instagram, and worked out the estimated earnings per post for each contestant.
To work out the estimated earnings per post of each contestant, we took celebrities from this list and divided the cost per post by the followers to give a 'cost per follower'. We then multiplied the cost per follower by the number of followers each contestant has.