How to Make the Most of Your Freetime
Watching, Reading, or Gaming? Whether you're a bookworm, gamer or binge-watcher, we've discovered just how much of your favourites you'll be able to finish this spring.
With everyone spending a little more time in the home recently, we've calculated just how much TV, gaming, and reading you'll be able to get through. So if you're self-isolating for two weeks, or if the country's closed for three, check out our handy guide below to see what percentage of your time that book, show or game will take up.

And for those working from home and freed from their commutes, we've also calculated what percent of your show, book or game you'll be able to get through now that you're not travelling to work and back everyday.
TV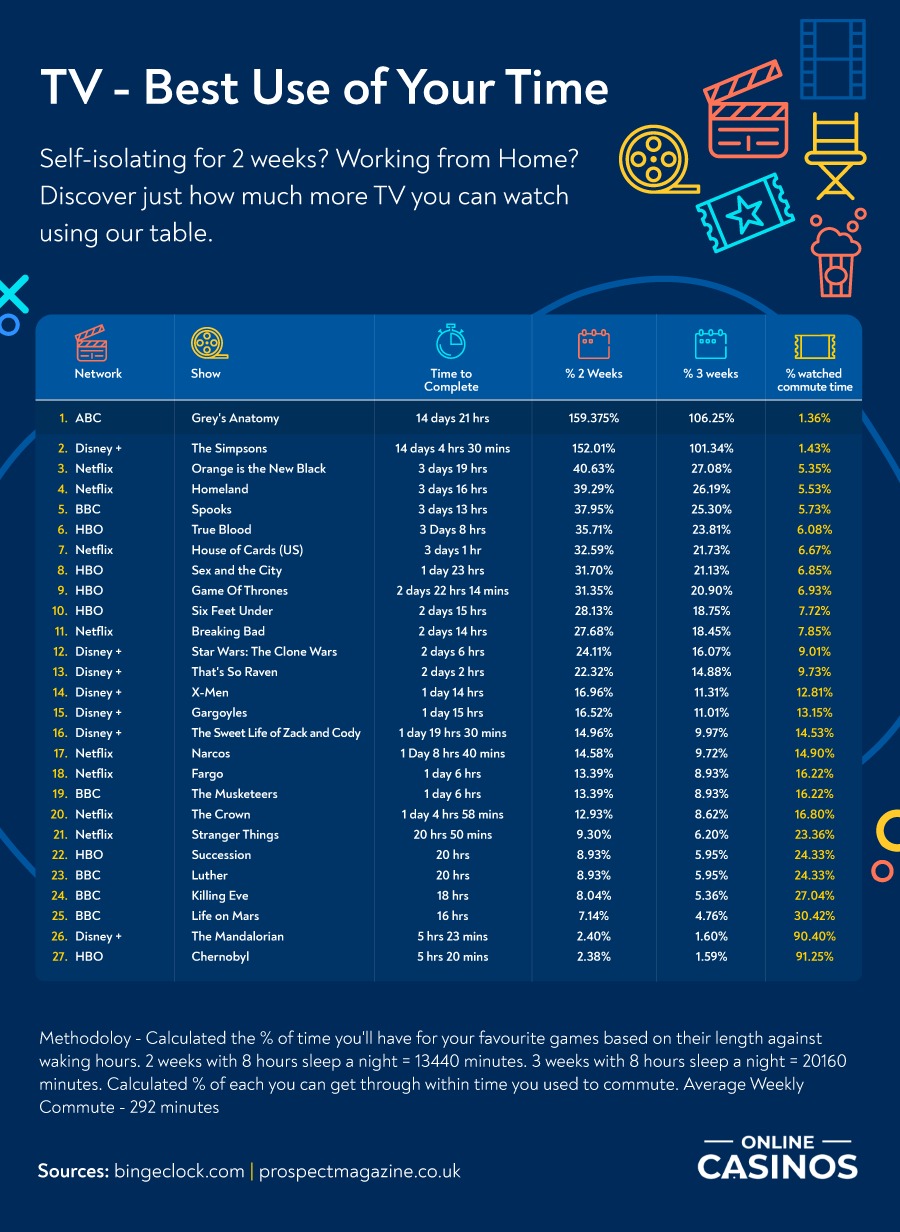 So if you're looking to really sink your teeth into a show, you can't go wrong with either Grey's Anatomy or The Simpsons. Since both of these have been on forever - 2005 and 1989 respectively - there's a ton to work through here. In fact, there's too much! Grey's Anatomy clocks in at 159% and The Simpsons at 152% - so you won't be able to finish either in the time you've got!
For more manageable but still extensive shows, it'll take you 40% of your two weeks to watch Orange is the New Black, and you can see off Game of Thrones with 31% of your time.

You'll be able to get through 91% of Chernobyl, so if you're looking to put your time to the best use, maybe start there.
Gaming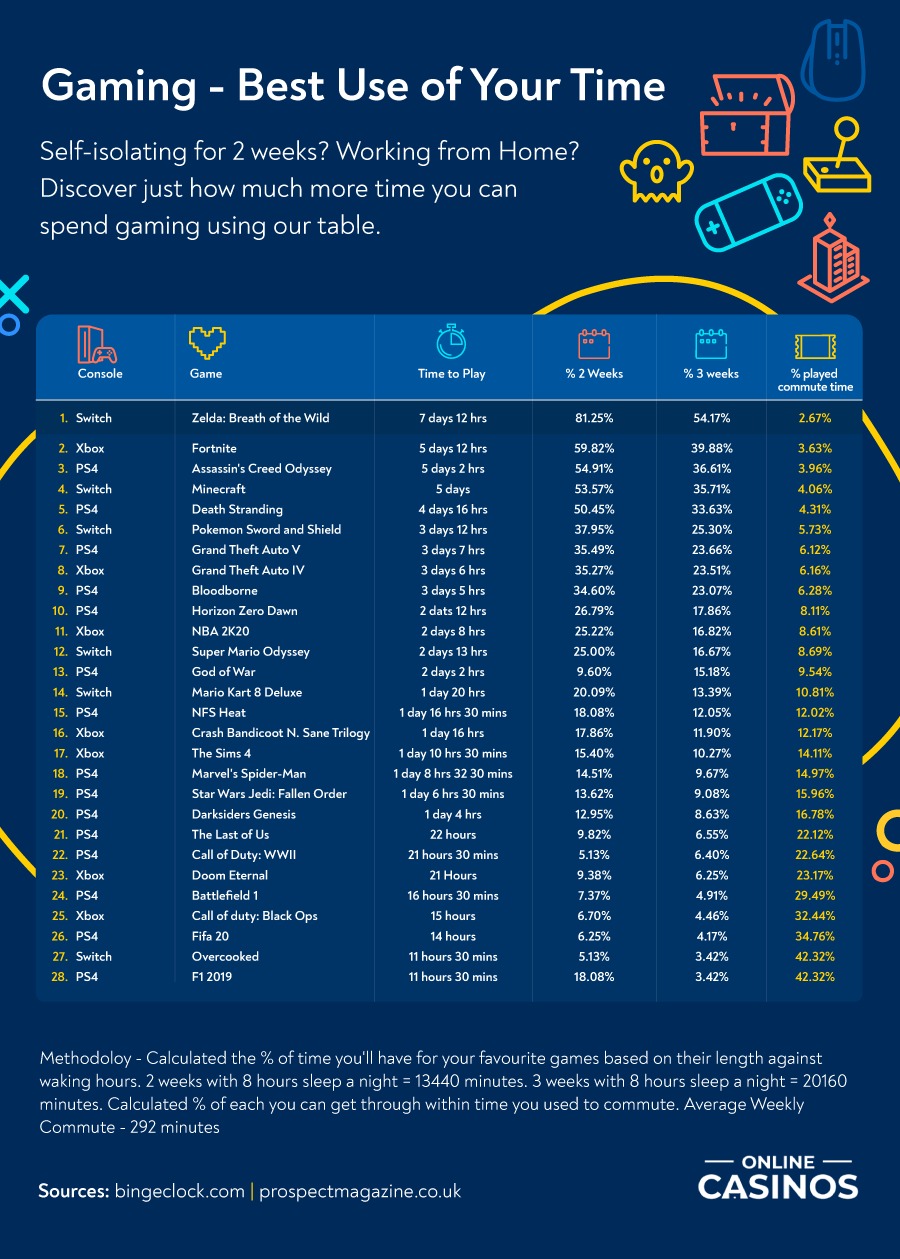 Those with a Nintendo Switch are in luck when it comes to freetime. If you play solidly for 7 days, 12 hours, you'll be able to finish The Legend of Zelda: Breath of the Wild - and that's a whopping 81% of your two week window cleared with the swing of a sword! Not a fan of Zelda, or don't have a Switch? Xbox and PS4 fans will do well with either Fortnite or Assassin's Creed Odyssey, which will both eat through almost 60% of your two weeks at home.
Books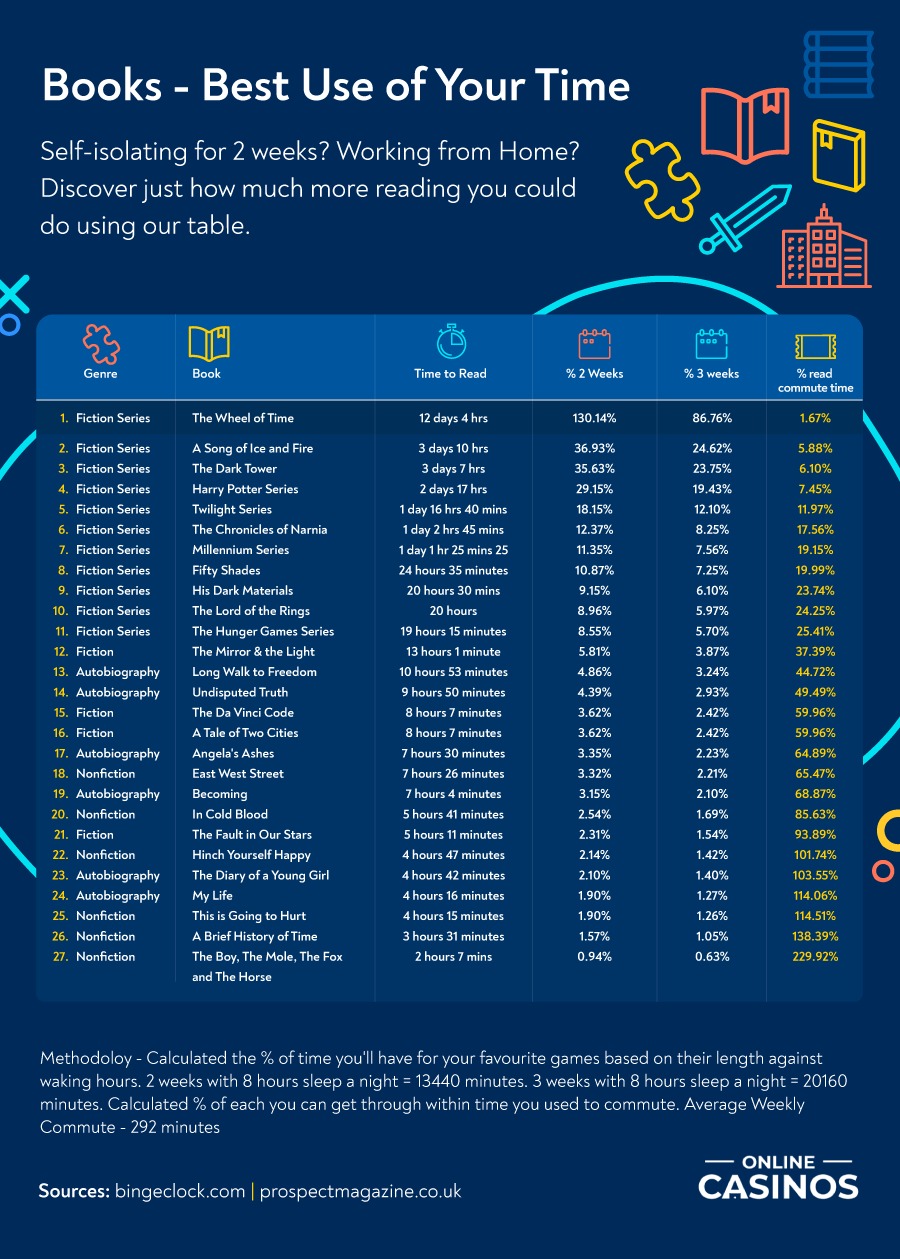 If you've got a stack of unread books on your bedside table, it's time to dust them off and get reading. Not only are books a welcome distraction from hours of TV or gaming, they are a great workout for your brain, too.
If you're really looking to sink your teeth into a book series to fill the time, then you can't go wrong with Robert Jordan's The Wheel of Time, which will take you over the two week window, coming in with 130%.
If you're not feeling quite so ambitious but still want a good read, you'll be able to polish off George R. R. Martin's A Song of Ice and Fire - i.e. Game of Thrones - using 36% of your two weeks. Stephen King fans can get lost in The Dark Tower franchise, which will take up 35%. And for Harry Potter fans? Completing the Wizarding World will see you using 29% of your time.
Methodology
We used bingeclock.com, howlongtobeat.com, and howlongtoread.com to find out how long each tv show, book, and game took to complete. We then calculated the amount of minutes in two weeks and three weeks there were after losing seven nights x eight hours. For 2 weeks, this was 13,440. For three weeks 20,160. The week was then divided by the length of the show in minutes to find the percentage of time it would take up.

We used Prospect Magazine to calculate the average weekly commute in the UK was 292 minutes. We divided this by length of media to see how much you'd be able to complete of it in commuting time.
More From Online Casinos