How we review the top progressive slots casinos
OnlineCasinos.co.uk has a robust, rigorous and repeatable reviews process.
This means that when we review any gambling site we give it the same treatment, whether it's a progressive slots casino or jackpot slots site.
We cover every key aspect of the sites we review. Our reviewers are casino games fans and players themselves, so you can be sure that they have your best interests in mind when assessing the quality of the sites we cover.
While we can't explain all the things we consider when reviewing the top progressive slots casinos but we can list the key ones:
Slot games
We look at the quality and the quantity of the slots games you can play, such as if the casino has jackpot bonus games, free progressive slots and the other major types of slots.
Other casino games
Our team checks the range and standard of the other casino games at the sites. For example, can you play roulette, blackjack and poker?
Bonus offering
We check the bonuses offered by an online casino and see if we think they offer good value to you (the player) by reviewing their T&Cs.
We review casino sites in this way to give you the certainty of knowing our recommendations are fair, accurate and reliable. This means you can feel safe and secure when deciding to bet at one of the online casinos we've reviewed.
Safety and security at progressive slots casinos
There's no greater priority for the team at OnlineCasinos.co.uk than your safety.
We want you to feel safe and secure whenever you place a bet at a gambling site. This is why we establish if a casino is trustworthy before we review it. Our method for establishing trust is to check the site for the icons of gambling regulators and responsible gambling organisations.
These are the regulators and organisations we look for:
Gambling regulators
Gambling Commission

Government of Gibraltar

Malta Gaming Authority

Spelinspektionen
Responsible gambling organisations
If we're not satisfied an online casino is safe and secure then we don't review it — it's that simple.
What are progressive slots?
Progressive slots are so-called because there are no fixed jackpots in these games. Instead, the jackpot progresses with each wager you make, only reaching an end point when someone wins the game.
Most progressive slot games have no jackpot limit — the prize amount keeps rising, becoming more and more valuable. However, some games will automatically pay out when they reach a specific amount.
You can find out if the progressive slot game you're playing has a limitless jackpot by checking the T&Cs of the game.
How do progressive slots work?
The main selling point of progressive slots is the ever-increasing jackpot amount that's up for grabs. This means that the key to understanding how progressive slots work is knowing how the jackpot prize components work.
In simple terms, this is how the jackpot works in progressive slots:
Contribution
A proportion of each bet you make is added to the jackpot, so the more wagers are placed the greater the prize-winning pot will be.
Seed
There must be a progressive jackpot amount at the start of each of these types of slot games. This jackpot is a minimum amount that's guaranteed by the online casino and is known as the 'seed'.
Prize
Little explanation is needed for the prize. It's the money claimed by the player who makes the winning bet in slots games that have a progressive jackpot.
How to play progressive slots
A lot of sites will offer tips on how to win at progressive slots.
While there are things you can do that won't harm your chances of winning, it's important to remember that slots are games of chance and there's no guarantee that you'll have a successful session when you play.
With this in mind, you should play progressive slots for fun and treat the potential to earn a jackpot prize as a happy bonus that could boost the enjoyment of your gambling session.
This all means that knowing how to play progressive slots games requires you to be aware of two important details:
You play slots games by placing wagers on spins

You must check the specific rules of the game you're playing
Follow all the guidance we've outlined here and you'll have a great chance of enjoying a fun gaming session when playing progressive slots.
What bonuses can you use on progressive slots?
Progressive slots can offer a range of bonuses for you to use on their games, with each individual title potentially featuring its own rewards.
But the main bonuses you can use on progressive slots are free spins.
Free spins are the main and most popular bonus you can use on any slot game, including progressive slots.
Free spins give you the chance to earn some free plays on popular slots games. Many online casinos include free spins as part of their welcome bonus package.
We've highlighted the best sites with free spins casino bonuses, so you can pick a great casino that offers you the opportunity to make some free bets on your favourite slots games.
The different types of progressive slots
Progressive slots are games that have an increasing jackpot offer. They start with a base-level prize pot and this increases with each wager made until one player makes a winning play.
But there's a number of game types that are classed as progressive slots (particular if you play slot games at a land casino) and these are the ones you need to know:
Progressive jackpots
The broad category for progressive jackpots. This is any game that has a jackpot that increases until a player achieves a winning bet.
Standalone progressives
These games feature a jackpot ticker and a fixed prize. As the name suggests, standalone games aren't connected to other progressive slot machines.
Wide area progressives
These are progressive slot machines used at land casinos. The machines are connected by a range of casinos and managed by an independent operator. Because wide area games connect a range of machines together, these progressive jackpots can offer huge prizes.
Why you should play progressive jackpot slots
First and foremost, you should play progressive jackpots because they're fun. The rules are simple to learn, the gameplay is quick and the graphics are often entertaining.
But the thing that sets progressive jackpots apart from other slot machine games is that you can win some really big prizes, as the jackpot usually keeps going up until it's won by a player.
So, if you want a fun, fast-paced game that gives you the chance to win a large prize then progressive jackpots could be the slot game for you.
Progressive slots game developers
Slots are almost always the best-catered for type of game at online casinos and progressive jackpots are a big part of the catalogue.
Some casinos have thousands of slot games for you to pick from. Having so much choice means you can really focus on quality over quantity. The way you can get the best games by picking the ones made by the top games developers.
These are the game developers you should look for:
Playtech

Microgaming

NetEnt
Some online casinos will even let you filter by games developer, so you can find games made by the above providers in no time at all.
You can learn more about the games offered by Playtech, Microgaming and NetEnt by reading our guide to the best casino software providers.
Mobile progressive slots and games
Being able to play your favourite slot games on your mobile phone is something offered by pretty much every UK online casino has an app for mobile gambling and if they don't then you can play their games via your mobile browser.
The key issue for you to tackle when playing progressive jackpot slots on your mobile is how you choose to play them. This is because there are pros and cons to both using an app and a mobile browser for your gaming, as we've highlighted below:
Pros and cons of playing progressive jackpots via an app
Pros
Gaming experience is designed specifically for mobile

You can place bets via your phone bill using a pay by phone casino
Cons
Downloading an app takes up space on your phone

If you wager via pay by phone bets then your wagers can be capped
Pros and cons of playing progressive jackpots via a mobile browser
Pros
Very close to the experience you get from the website

You don't need to download casino software to play the games
Cons
Not as easily accessible as many online casino apps

Graphics might not be as high-quality as on an app
Who pays progressive slot winnings?
Progressive jackpots in slot games are paid by the software provider — the company that developed the game.
Software providers pay progressive jackpots in one of the two following ways:
Directly to the player

Via the online casino
From a player perspective, getting your jackpot paid directly from the software provider is the least complicated way of collecting your winnings. The reason for this is that you should receive a lump sum payment and it should arrive promptly in your bank account.
That's not to say that it's terrible to get your winnings via an online casino but it's certainly the least preferable of the two options. These are the reasons receiving your jackpot via a casino site is less desirable than getting it from the software provider:
Online casinos have withdrawal limits on how much money you can get in one go

Online casinos can have loopholes that delay or deny your jackpot winnings
You can find out who pays the winnings for a specific progressive jackpot game by checking the terms and conditions of the offer. However, you might also want to ask a casino rep, as it can be tricky picking through casino T&Cs.
Progressive slots fairness and RNG
All progressive jackpot games must be fair and transparent for online casinos to offer them to UK players. This is a non-negotiable requirement from the Gambling Commission, so you can be sure that if you're playing slots at a UK site then it will be fair.
RNG stands for random number generator and it's one of the ways that the fairness of progressive jackpot games is guaranteed.
An RNG is a microprocessor that has the task of selecting numbers within a specific range — often ranging from zero to many billions. The RNG uses a formula to produce a sequence of numbers and these are used to determine the outcome of every spin made on a progressive jackpot game. This ensures that slot games are determined by chance.
Why online slots are better than physical slot machines
Playing a progressive slot machine game or two at a land casino can be great fun. You get the sights, sounds and even smells of a live gambling hall, which can be a brilliant gambling experience.
But while land casino gambling offers you all these benefits, one thing you absolutely can't get from a brick and mortar casino is the accessibility to play its game wherever and whenever you want to.
This accessibility is the real strength of online slots. You can play online casino slots from your home or phone and at any time of the day. This is why you can certainly make a case for saying online slots are better than physical slot machines.
3 best casinos for progressive slots
There are many great online casinos that offer progressive jackpot slot games. We've picked three of the best sites and given each one a min review that explains why we think they're a great option for playing slot games.
888 Casino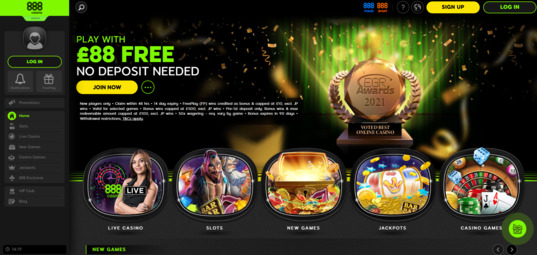 Credit: 888 Casino
888 is one of the best casinos with progressive jackpot slots games. It has a huge catalogue of games and even features exclusive slots titles, making a truly unique online casino.
These are the three top things about 888 Casino:
Exclusive slots titles

Lots of jackpot games

Great live games
Casino rating: ⭐⭐⭐⭐⭐
Read our 888 Casino review now to learn more about this great gambling site.
PlayOJO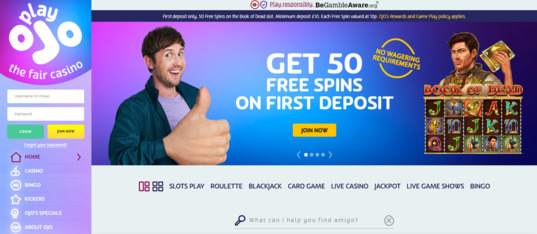 Credit: PlayOJO Casino
PlayOJO Casino is a true players gambling site. Not only does this online casino have thousands of great games but it also has no wagering requirements for its bonuses, meaning it's a site that really looks after its players.
These are the three best things about PlayOJO Casino:
No bonus wagering requirements

Enormous collection of slots games

Brilliant app for mobile gambling
Casino rating: ⭐⭐⭐⭐⭐
Check out our PlayOJO Casino review to discover all the other great things about this site.
Mansion Casino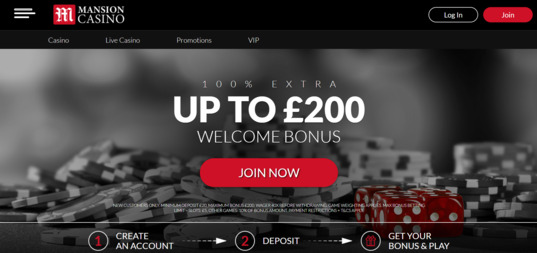 Credit: Mansion Casino
Mansion Casino is one of the heavyweights of casino slot gaming. It has the slots titles. It has the slots gambling experience. It has the slots bonuses. You'll struggle to find a site that compares with Mansion Casino, let alone beats it.
These are the three finest things about Mansion Casino:
Low betting limits are ideal for new players

Excellent VIP scheme for loyal players

Massive collection of casino slots games
Casino rating: ⭐⭐⭐⭐⭐

Cast your eye over our Mansion Casino review to find out what else we like about this site.