When it comes to marriage, 'what's mine is yours' is how the saying goes. But what about when it comes to divorce?
Going through a divorce can be very stressful, especially when you're trying to sell your house, and agree on an arrangement that's best for the children. But spare a thought for many high-profile celebs, who also have to consider their staggering million – and sometimes billion! – dollar fortunes.
We've taken a look at the richest divorcées, and the biggest divorce settlements paid by Hollywood's finest, to see who really got the most out of their marriage.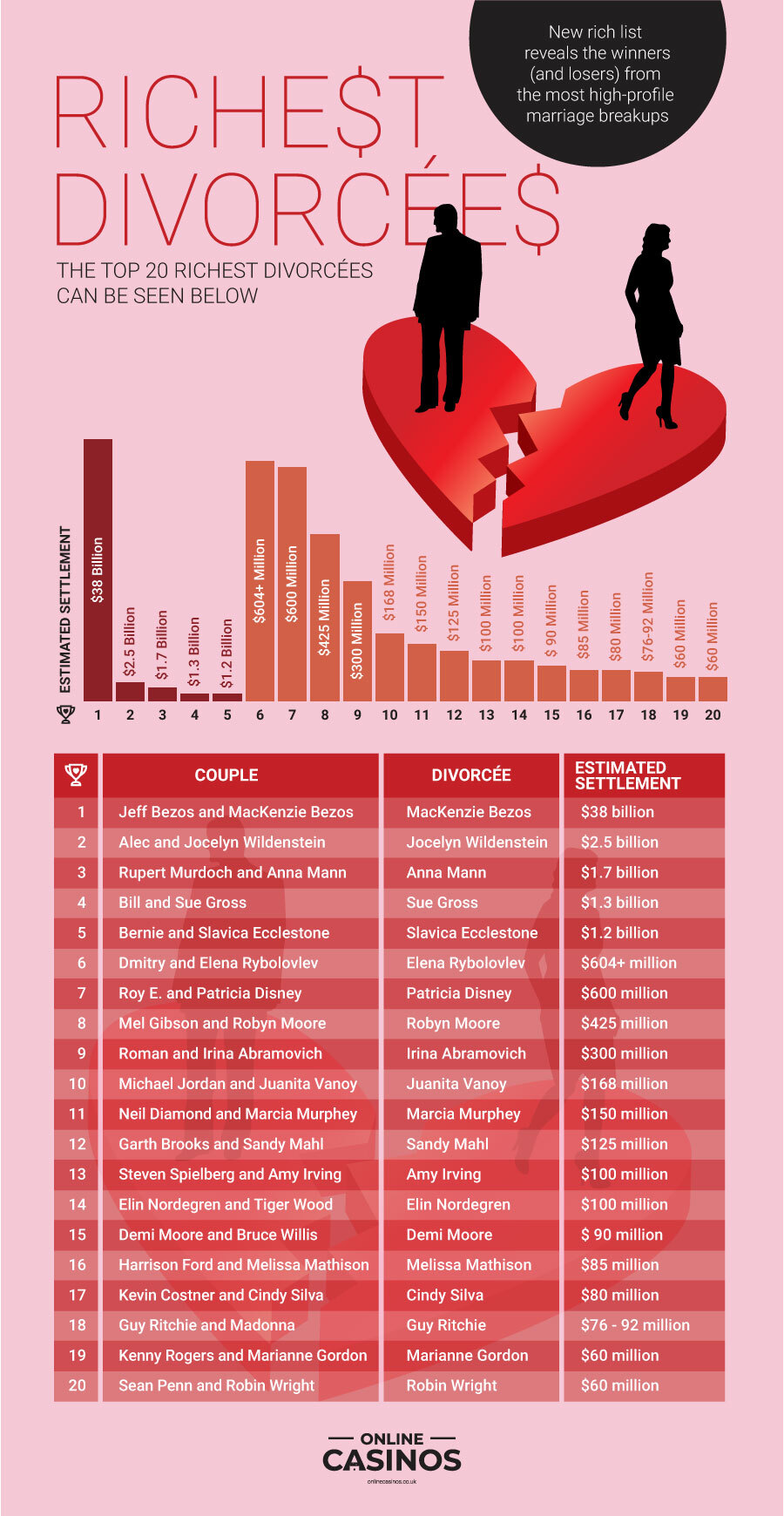 Key findings
The richest divorcée is American novelist, MacKenzie Bezos. Married to the CEO of Amazon, Jeff Bezos, between 1993 – 2019, MacKenzie walked away with a staggering $38 billion!
In second place is socialite Jocelyn Wildenstein, who split with Alec Wildenstein in 1999 and received a cool $2.5 billion settlement.
The top 5 richest divorcées are all women, each with divorce settlements worth over a billion dollars!
Whilst the divorces of Arnold Schwarzenegger and Maria Shriver, and Brad Pitt and Angelina Jolie are not yet finalized, sources say Maria and Angelina could receive up to $250 million and $100 million respectively, which would also put them in the top 20 list.
Sources:
https://finance.yahoo.com/news/24-most-expensive-celebrity-divorces-090500645.html
https://money.com/most-expensive-divorces-celebrities-steve-wynn-donald-trump-rupert-murdorch/
https://www.forbes.com/sites/noahkirsch/2019/04/04/bezos-by-far-the-5-largest-billionaire-divorces-in-history/#3f6db86e6870
https://www.glamourmagazine.co.uk/gallery/most-expensive-celebrity-divorces#:~:text=Estimated%20Settlement%3A%20%244.8m&text=When%20Reese%20Witherspoon%20and%20Ryan,Ryan%20to%20half%20Reese's%20fortune
https://www.businessinsider.com/top-10-pricey-divorce-settlements-in-hollywood-2012-5?r=US&IR=T#90-million-demi-moore-and-bruce-willis-7
https://www.heraldweekly.com/revealed-the-most-expensive-divorce-settlements/26/
https://www.worthy.com/blog/divorce/entertainment/most-expensive-celebrity-divorces/
https://www.marieclaire.com/culture/g19123551/most-expensive-celebrity-divorce-settlements/?slide=4
Methodology:
Onlinecasinos.co.uk conducted desk research into the most lucrative celebrity divorces.
Once the data was collected, Onlinecasinos.co.uk ranked them based on the most expensive divorce settlements. From this they were able to create the list of the richest divorcées.
More From Online Casinos