Introduction
Football, a.ka. The Beautiful Game, regularly offers us dazzling highs and crushing lows, and here in the UK we're lucky enough to have the world's best quality of football right on our doorstep. While we may not have the favourable La Liga weather, there's rarely a boring game in the Premier League thanks to attacking and quick-pressing football being the staples of many coaching strategies.
While the winners over the last 20 years or so have been the same few names (with the rare exception, g'wan The Foxes), we wanted to put together a different kind of league table. By crunching the data around metrics that matter to punters, we've worked out which of the Premier League clubs has the best stadium experience.
From the price of a pie to how long you'll be walking from the nearest station, take a look at our definitive table of the best Premier League stadiums.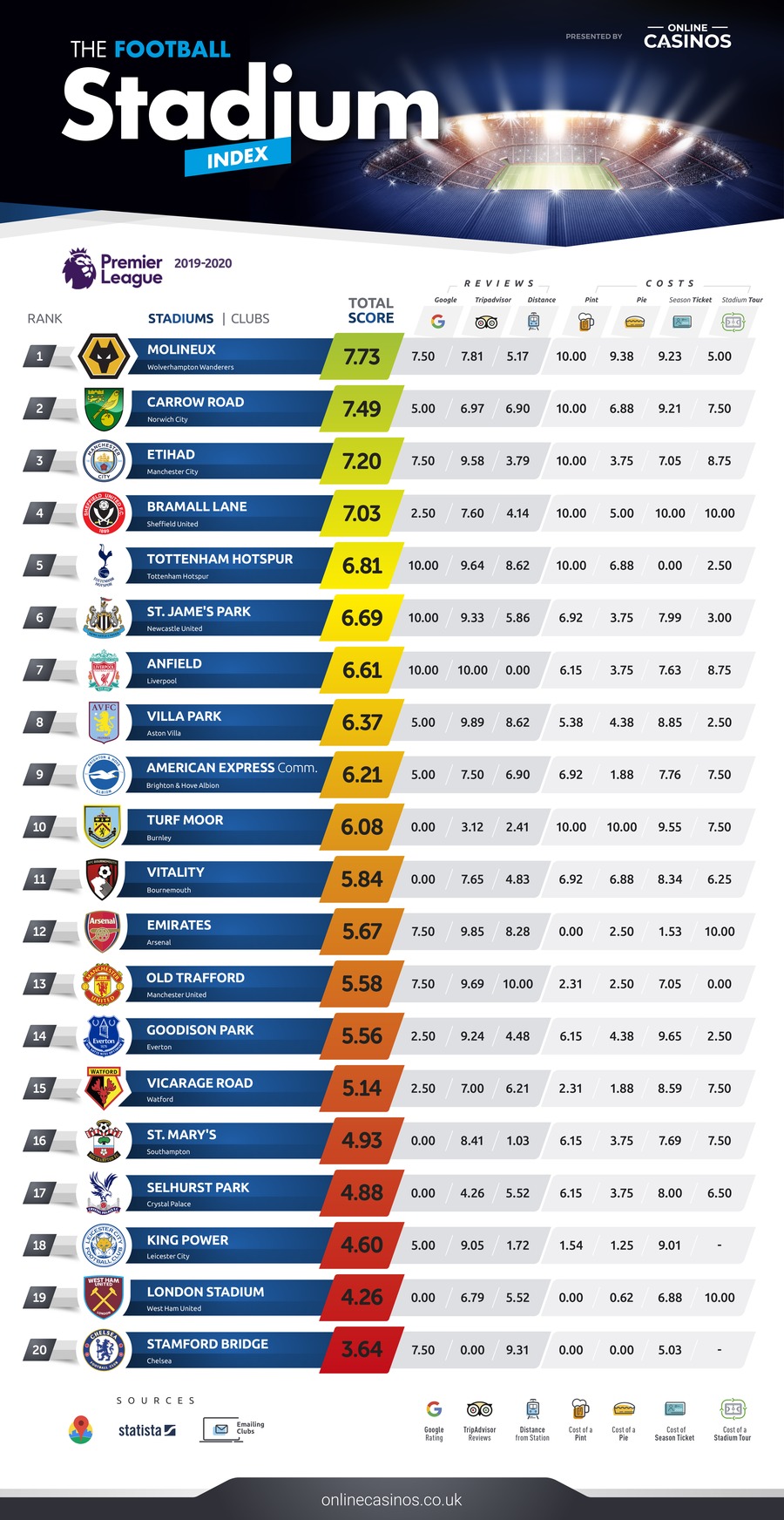 Key Findings
The Molineux Stadium comes out on top, scoring particularly well for Google and TripAdvisor reviews, cost of a pint, cost of a pie, cost of a season ticket
Chelsea's Stamford Bridge is found at the bottom of the pile, with the worst overall TripAdvisor reviews, as well as the priciest pints and pies
Burnely's Turf Moor has the cheapest pie at just £3, whereas the most expensive can be found at Chelsea's Stamford Bridge, where it will set you back an eye-watering £4.60
Turf Moor is also home to the cheapest pint, allowing you to wash your halftime snack down for just £4. Again, Chelsea has the most expensive beer, clocking in at £5.30.
Old Trafford is the easiest to access, thanks to its very own station that opens up on match days.
Methodology & Sources
For many of the data points, we sourced the most recent information available from the websites of the football clubs included. In the event that they didn't have the required data online, we contacted them directly.
Because the data came in a variety of different formats, min/max normalisation was used to standardise the data into a score between 0 and 10. This allowed us to then determine the overall rankings by averaging their scores.
Google Rating

Looks at the rating of each stadium on Google.

Trip Advisor

This looks at the number of 'Excellent' and 'Very Good' reviews in relation to the total reviews on the stadium's Trip Advisor page.

Ease of Access

Looks at the walking distance from the nearest train station to the stadium, in minutes

Cost of a Pint

The cheapest alcoholic pint available inside the stadium on a matchday

Cost of a Pie

The cheapest pie available inside the stadium on a matchday

Cost of a Season Ticket
Cost of a Stadium Tour

The cost of a standard stadium tour for an adult
More From Online Casinos