How influential is your favourite footballer? We reveal the players with the biggest global impact.
We took a list of the most prolific players in the Premier League* and ranked them on a range of criteria, including charity work, media appearances and brand endorsements, to find the player with the greatest influence, globally.
Who has an influence more powerful than their free kick? Find out below...
*Players featured in the study were those who had made over 400 appearances in the Premier League
The World's Most Influential Footballer Revealed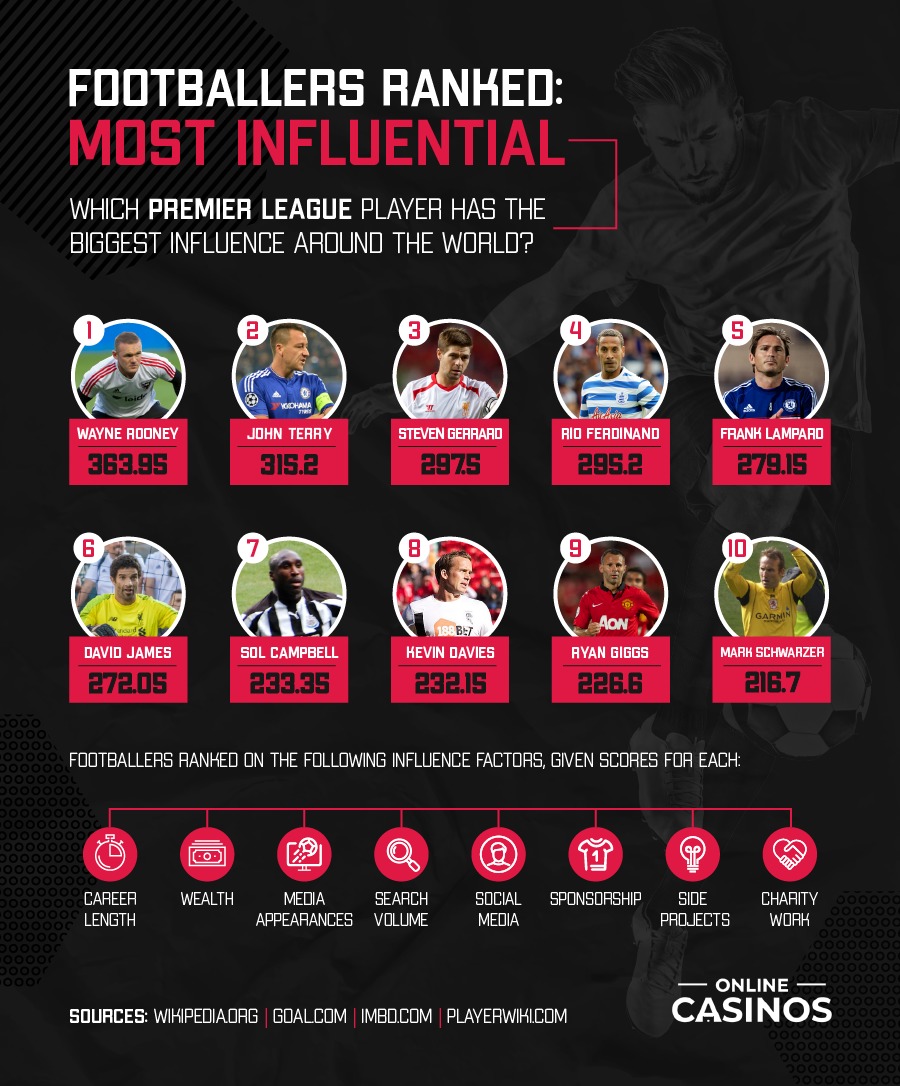 Out of a possible 500 points, it was Wayne Rooney who went straight to the top of the table with 393.95 points. Rooney's influence can't be overstated - winning various Player of the Year Awards at numerous points in his career, and of course, there's the player's iconic bicycle kick in 2011, which was voted the best goal in Premier League history.
It's no surprise he takes the top spot. Making 491 appearances in the Premier League for both Everton and Manchester United, Rooney scored a number of goals for his high influence across all criteria, including career, wealth, media, charity, and digital.
Players were also scored on external influence factors - whether or not they had an autobiography, whether they featured in the FIFA games, or if they've done any modelling work.
Rooney was followed by John Terry with 315.5 points and Steven Gerrard, with 297.5.
Footballers Ranked by Media Influence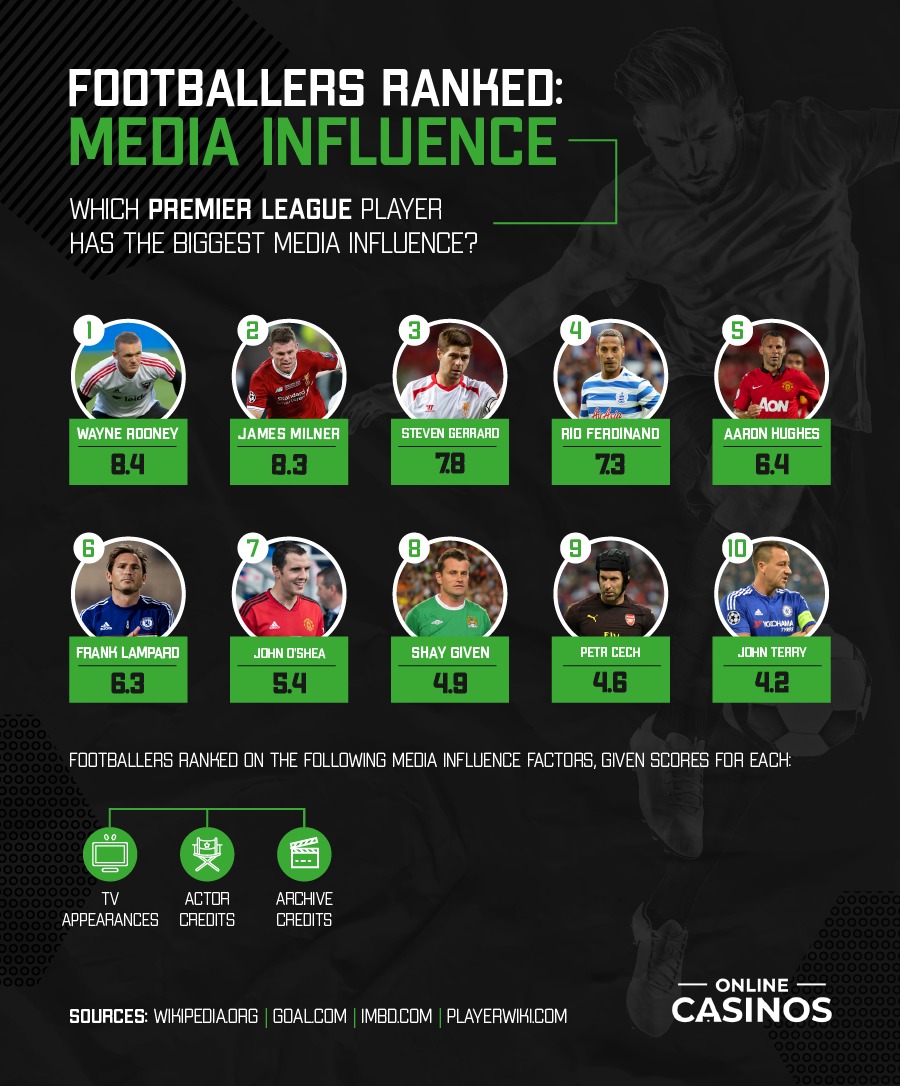 Outside of the game itself, the easiest way for players to build influence is with their media appearances. But which footballer is the most media-savvy?
We looked to IMBD to find out - compiling a list of each player's advert appearances, TV spots, acting roles and use of their archive footage. Coming in first place again, with 8.4 out 10, was Wayne Rooney, who's 62 media appearances go a long way to his high-score. But James Milner came a close second, with 8.3, and Steven Gerrard came third, with 7.8.
The Most Searched for Footballer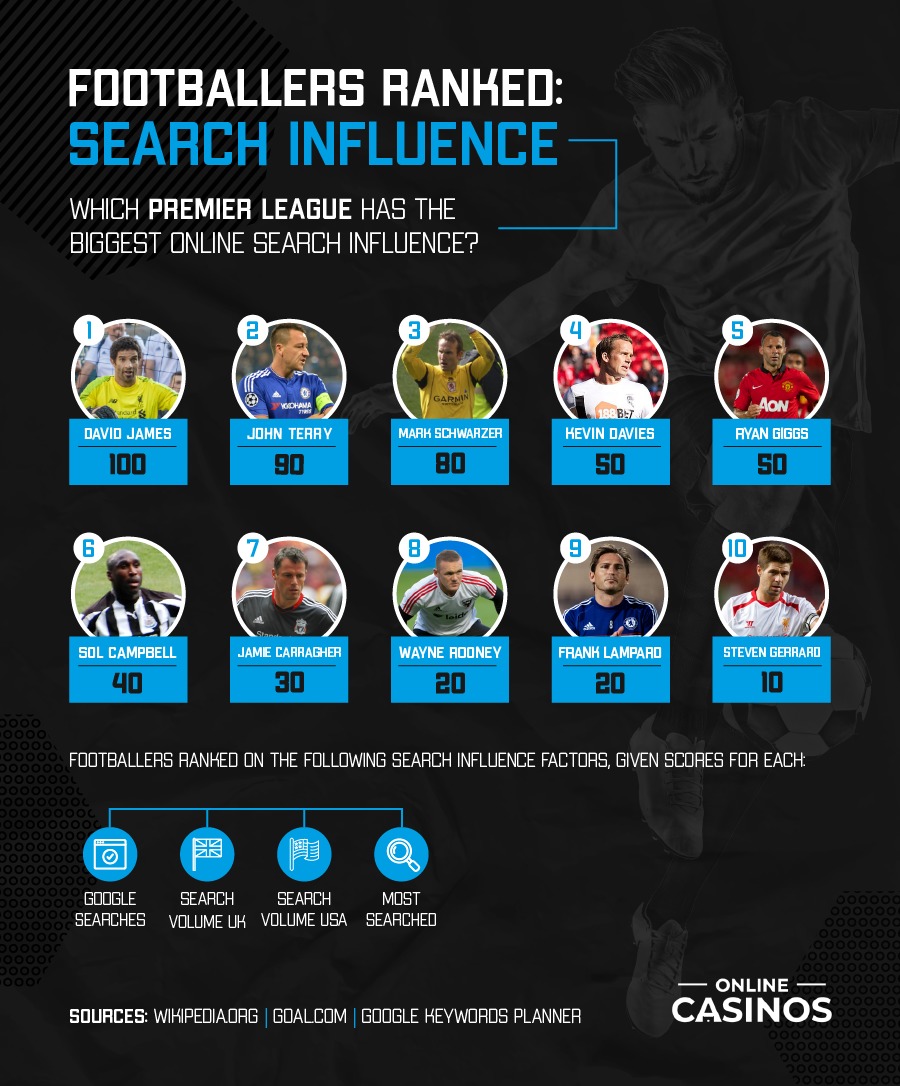 Surprisingly, it's David James who we're searching for the most. The goalkeeper tops the list when it comes to search influence, scoring a huge 100 points on our weighted scoring system.
Could that recent stint on the BBC's Strictly Come Dancing have boosted his search influence around the world?
John Terry and Mark Schwarzer make up second and third places respectively.
Footballers Ranked by Social Influence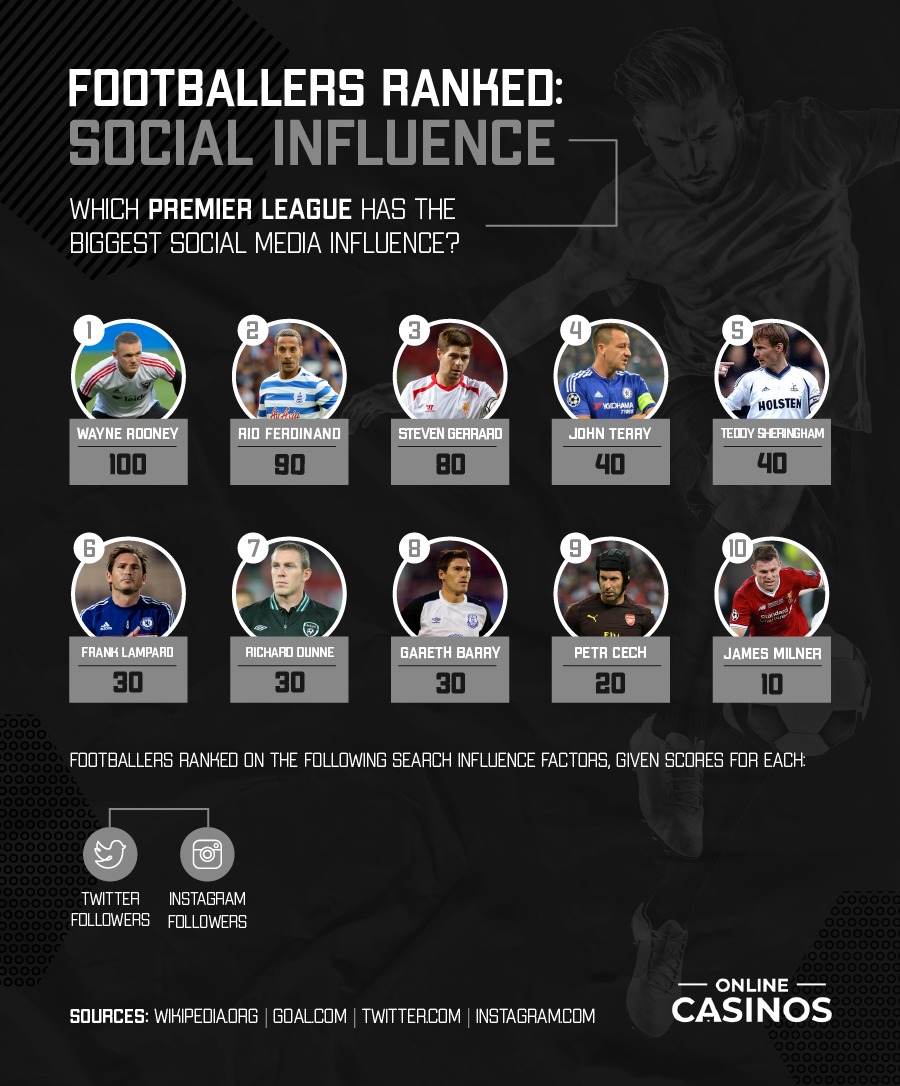 Wayne Rooney scores a hat-trick with his third top spot on our list, landing in first place for social influence.
Rooney's massive amount of followers - 14.7m on Instagram and 17.2m how just how much influence he has on social media.
Rooney has an advantage over some older footballers who aren't quite as socially-savvy - Teddy Sheringham, for example, who was recently unmasked on The Masked Singer, lacks any kind of social influence with no social profiles at all.
Footballers Ranked by Sponsorship Influence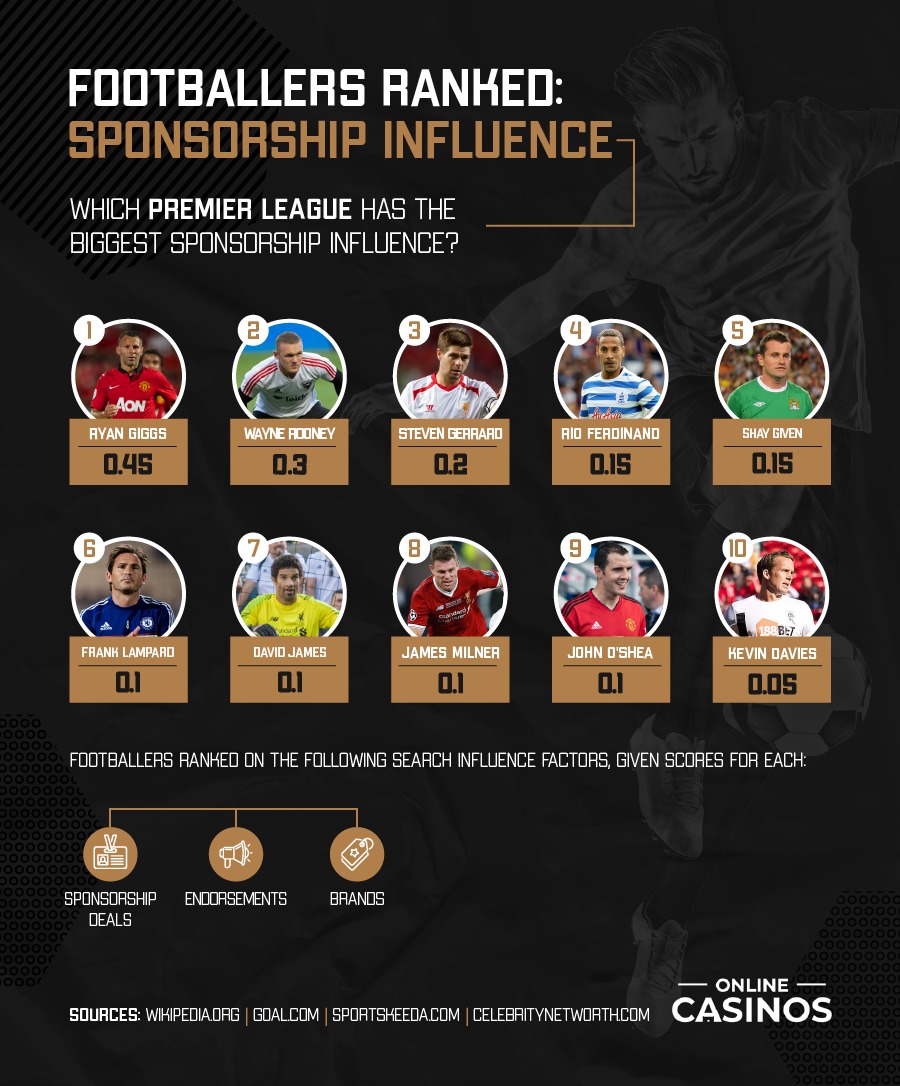 Outside of the media, a player is defined by their brand partnerships and endorsements, and this is perhaps the biggest way to build influence. So who takes the top spot this time?
Players were scored for the amount of brands they've worked with, as well as the size of each brand. And when it comes to sponsorship influence, it's Ryan Giggs who takes the lead. Giggs certainly isn't workshy when it comes to brands - having worked with Reebok, Citizen Watches, Givenchy, Fuji, Patek Phillpe, Quorn Burgers, ITV Digital, and Celcom.
Rooney came second this time for his work with Nike, Adidas, Coca Cola and Nokia, and Steven Gerrard came third working with the likes of Jaguar and Lucozade.
Footballers Ranked by Charity Influence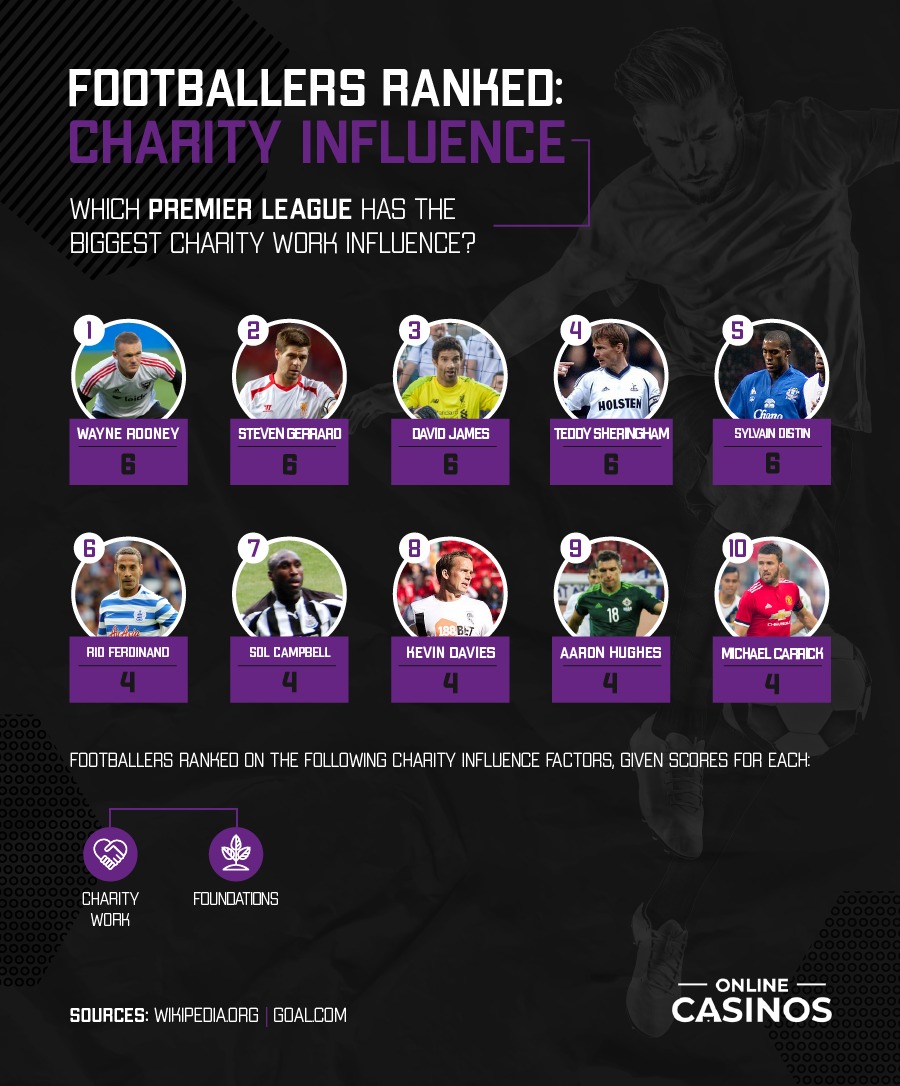 Many players don't come from privileged backgrounds, and having made a life for themselves financially, are happy to give back to the community.
Players were scored on their charitable contributions, as well as any coaching work, and whether or not they had a specific foundation set up in their name to help a good cause.
Wayne Rooney scores top place for his outstanding charity work throughout his career.
Most Influential Premier League Team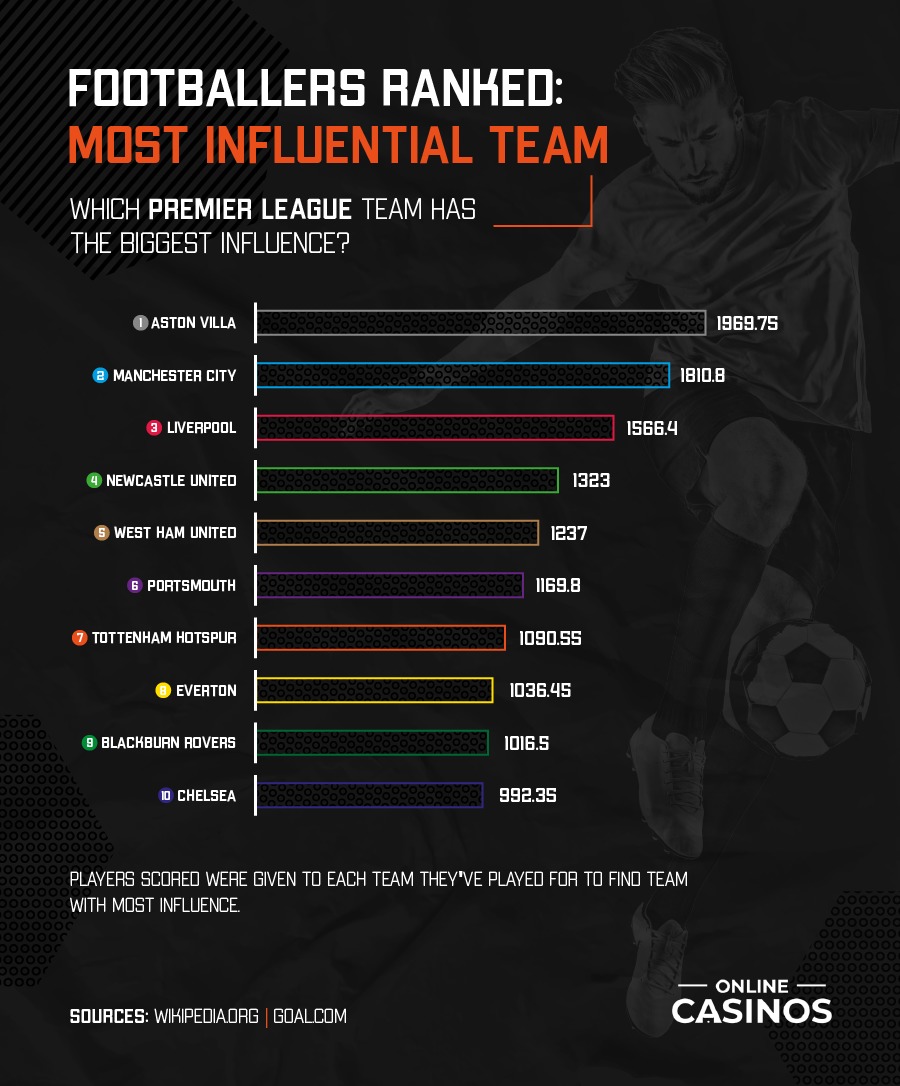 So which team has the biggest influence overall?
Looking purely in terms of the players and their influence, we've calculated which team has the biggest range. Surprisingly perhaps, it's Aston Villa who takes the top spot, beating out huge teams such as Manchester City, Liverpool and Newcastle United.
This is partly because Aston Villa has worked with so many prolific players - 13 on our list have played for the team at some point or another, including Richard Dunne, Gareth Southgate, and Aaron Hughes.
The World's Most Inspirational Female Footballer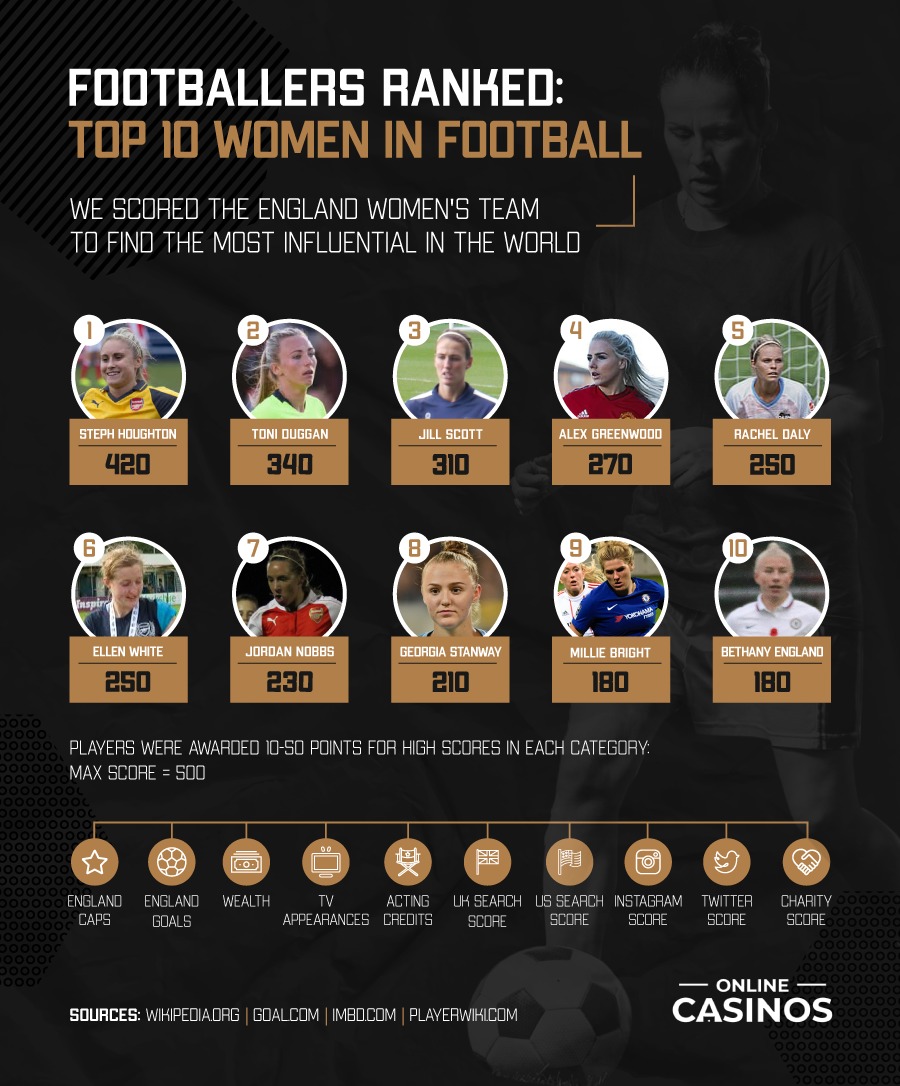 With the SheBelieves Cup kicking off this weekend, we wanted too see how the England women's team stacked up too! Scoring 420 out of 500, England captain Steph Houghton has been crowned as the most influential - and most inspirational - female footballer. Houghton bagged a number on things like goals, caps, media appearances, charity work and digital presence.
Methodology
The 30 footballers featured in the study were the most prolific Premier League players of all time, having to have played over 400 matches to qualify.
Players were ranked following original research into a number of different influence factors. These were scored individually and given a percentage weighting leading to a final score out of 500.
Influence Index and Weighting:
Career Score: no. of appearances, no. of teams, length of career - 25%
Wealth Score: net worth in pounds - 10%
Media Score: no. of tv appearances, no. actor credits, archive appearances - 10%
Search Score: no. of Google searches, UK search volume, US search volume - 10%
Social Score: no of Twitter followers, no of Instagram followers - 10%
Sponsorship Score: no. of sponsorship deals, size of brands - 5%
Side Projects Score: appearances in FIFA games, written an autobiography, modelling work - 10%
Charity Score: charity work, their own foundation, coaching - 20%
Data correct as of 5th February 2020, combining information from a range of sources such as Wikipedia, Goal.com and football fan sites.
More From Online Casinos