You can be TikTok famous whether you're a Pug or a Pomeranian, but how much are these famous furries making from their videos?
The Ulti-Mutt TikTok Rich List reveals how much the most popular pups on TikTok, could be earning...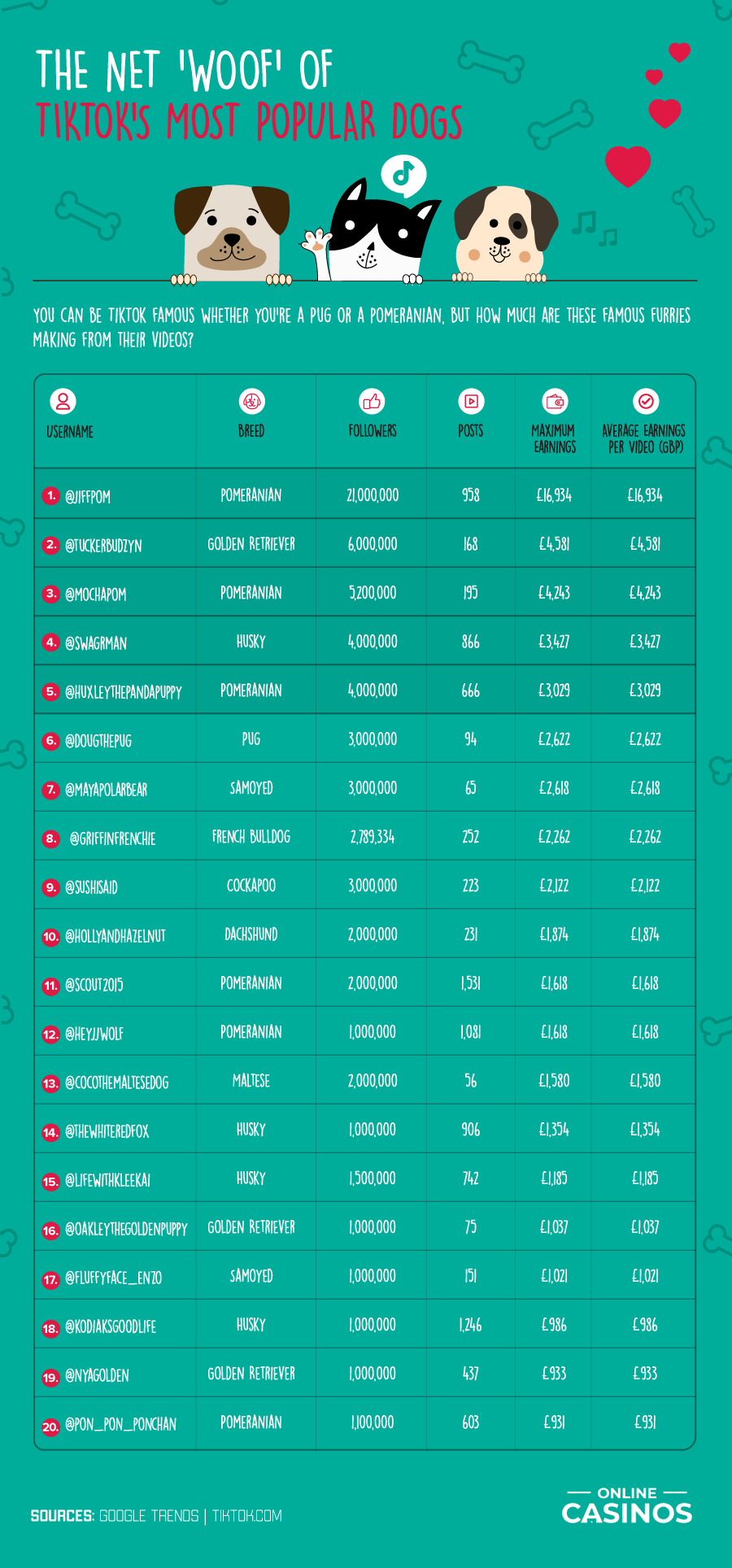 Revealed: TikTok's Top Earning Dog Breed
Forget Instagram, TikTok is the social media sensation of 2020 and these paw-some breeds have already begun to unlock the earning potential of the app. But our research reveals some dogs could be earning more than others…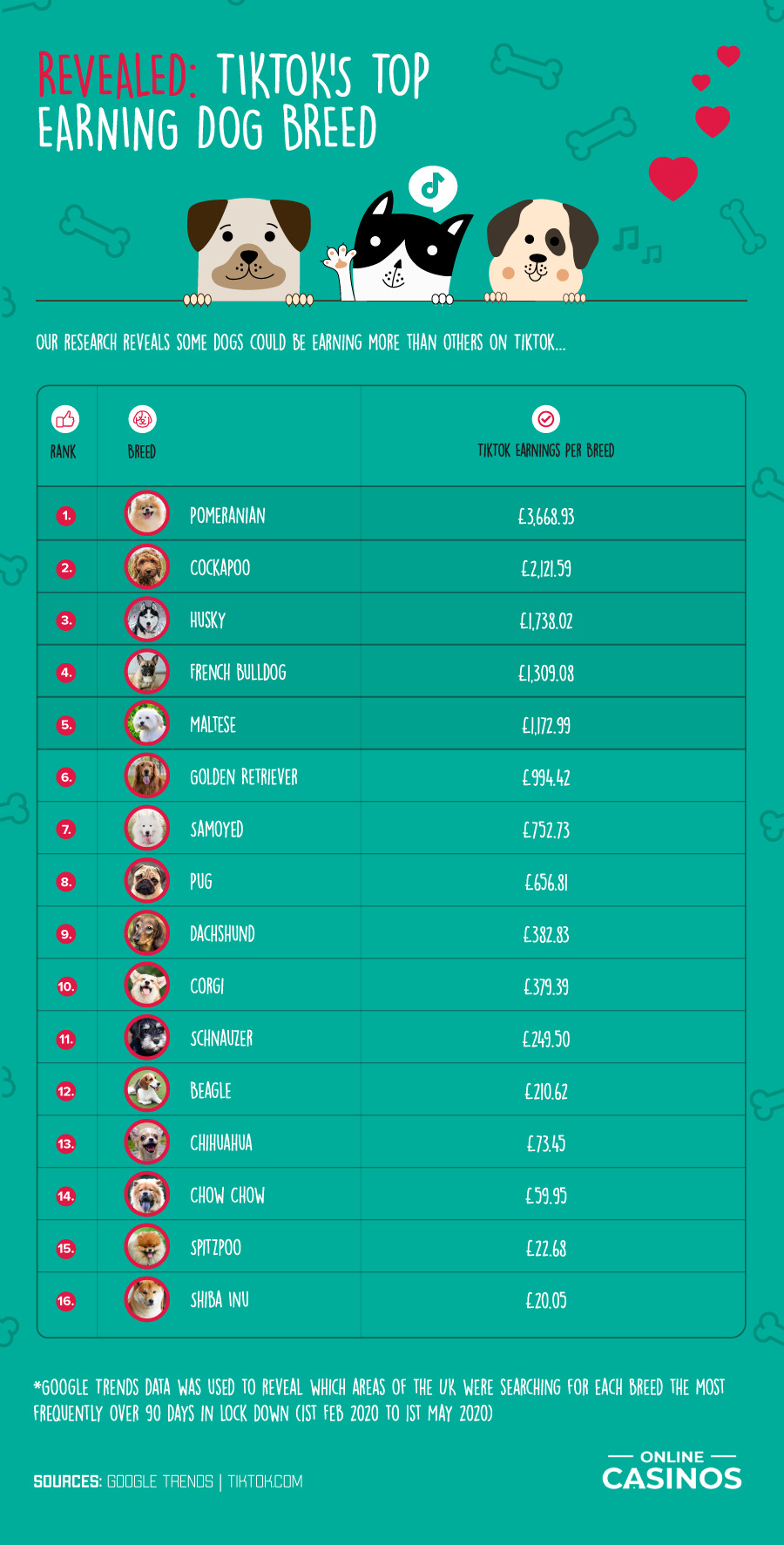 The top earning breed on TikTok is the Pomeranian. This fluffy pooch could be earning over £3,000 per video. The lowest earning breed is the Shiba Inu who stands to earn just £20 per post.
TikTok's Most Popular Pups: UK Lockdown Edition
Which of TikTok's most popular pups does the UK love the most? Taking the last 90 days of data from Google Trends, we've revealed how interested the UK is in TikTok's most popular pups.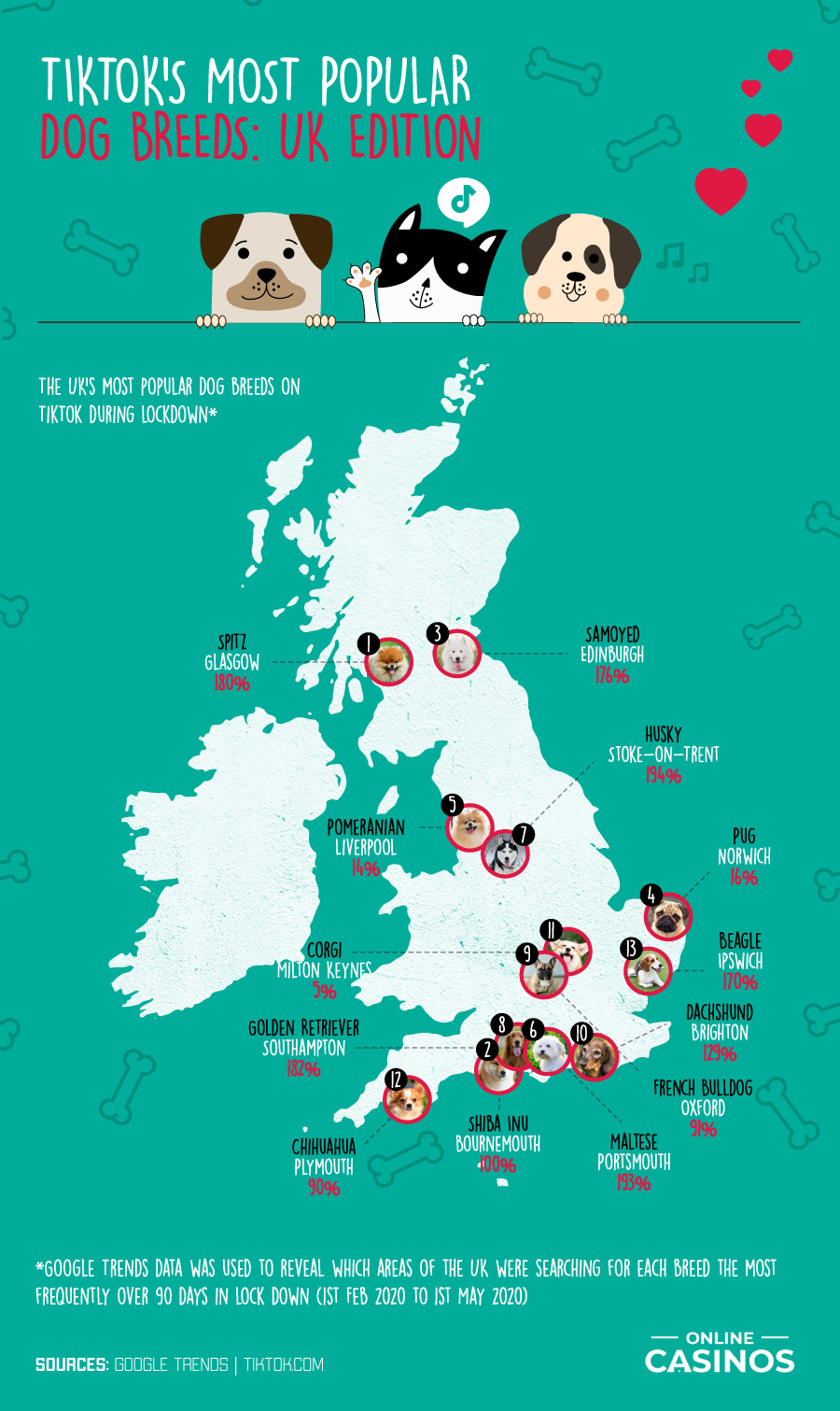 With an 194% increase in searches it's the hunky Husky that's the UK's most-searched dog breed during lockdown, with Stoke-on-Trent making the majority of those searches. Next, it's the mini Maltese with 193% more searches when compared to pre-lockdown data.
And as for the least searched? It is Her Majesty's favourite breed the Corgi, with just a 5% increase with the majority of those made in Milton Keynes!
Here's How You Can Make Your Dog Famous During Lockdown
If you're "bored in the house, in the house bored" during lockdown, and you have one of TikTok's top earning pooches for company, then you could be sitting on a furry goldmine.
Here are 5 top tips to get you and your pooch started on your TikTok journey:
Use viral sounds and trending songs in your videos
Use TikTok's discover page to help you find songs that have had the most views and use these as the soundtrack for your videos. Check out some already TikTok famous pooches and see how they incorporate viral songs into their videos.
Reply to your comments
If your pup gets a lot of comments on their videos , then try to reply to as many as you can. This can help to increase engagement meaning you're more likely to land on the #foryoupage.
The For You Page or #FYP
Every TikTok channel has two content streams, the 'Following' stream and the 'For You' Stream. The 'following' stream shows you videos from accounts you already follow, but the 'for you' stream shows you brand new content. You want your pup's account to land on the for you page (#FYP) to get as many 'eyes' on your video as possible!
Keep Scrolling!
The best way to spot a trend is to keep scrolling through your 'for you page'. Click 'share' to add the video to your favourites so you can refer back to it at a later date.
Match the special effects to the movement on your video or the sound you're using.
Unlike Instagram, the visual effects available on TikTok are really advanced. You can do jump cuts, transitions and even add text to your videos. Practice really does make perfect so keep testing and trying different effects and techniques with your pup.
More From Online Casinos