Did you know that people spend more in casinos than they do on feeding their pets? Online and offline casinos generate huge amounts of money and attract an enormous number of players, but is the future bright for both? You'll soon find out.
The rise and rise of online casinos since the mid-1990s
Since the launch Gaming Club (the first online casino ) in 1994, the number of online casinos and people using them has increased hugely. Don't believe us? Trust the stats. Between 2009 and 2017 online betting has grown by 146%, and more than 5 million people in the UK gamble regularly online.
With such impressive numbers, you won't be surprised to learn that there's a huge amount of money spent in online casinos – check out the figures below to get an idea of how much we're talking about: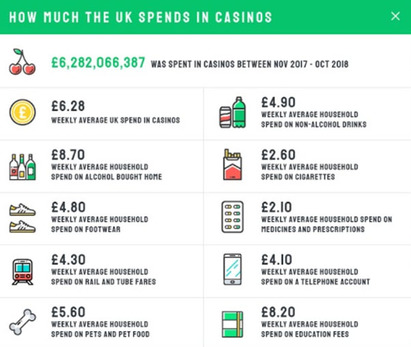 While the growth in internet usage (it's now considered a basic right for most people) has certainly helped fuel the rise in online casino popularity, the conditions in the UK play a big part too.
Online gambling in the UK is completely legal (unlike the USA, for instance), fully licensed and regulated, levies no tax on your winnings, and lets you choose from an enormous range of games.
Offline casinos are still pulling in gamblers, but less of them
With the accessibility, freedom of choice, and regulatory protections attached to online casinos, you might expect offline UK casino attendance to have gone down.
However, land-based casinos continue to attract punters and the figures bear this out, with over 1.6 million people visiting one in August 2018 alone. But there's a catch: despite getting plenty of people through the doors, attendance at UK land-based casinos has dropped significantly over the past few years: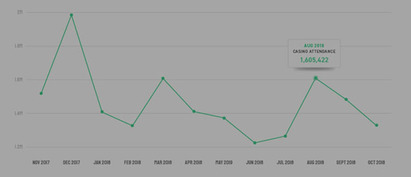 Why are attendances at offline casinos dropping? It's hard to pinpoint one specific reason but there are a lot of factors that play a role – a rise in the promotion of responsible gambling making people question whether they want to go to a casino; economic uncertainty after Brexit (people tightening their belts); and the rise of online casinos.
The difference between offline and online casinos
Live casinos feel and smell real because you can hold the chips in your hands and sense the perspiration in your fellow players – it's like betting. This tangible gambling is one reason people continue to visit offline casinos (though, in decreasing numbers). Some people claim online betting is too much like a game and not enough like real life, making it potentially more addictive and dangerous.
Kelly Field is an example of a gambler for whom the lines between 2D and 3D betting became blurred. As Kelly racked up debts of £70,000 because she felt that gambling online was more like playing a computer game, explaining: "You're in this online virtual reality so you're not dealing with what you're dealing with in reality – it just seems like digits."
What does this mean for online casinos in the UK? It's likely that there will be a change in the way internet gambling is regulated.
Calls for tighter online regulations to change the landscape?
Today the UK landscape looks both free and regulated, with people able to choose from an array of games and receive protection from the UK Gambling Commission. However, some politicians are calling for tighter legislation – particularly Labour's deputy leader, Tom Watson.
Tom Watson has claimed online gambling is a "hidden epidemic," one fuelled by a disparity in regulations between the online and offline world: "Whereas gambling in the offline world is highly regulated, the lack of controls on online gambling is leading to vulnerable consumers suffering huge losses."
Watson has gone on to say that online gambling companies: "have a responsibility to protect their customers from placing bets that they cannot afford. But too often, these operators have either neglected the care of their customers or have been too slow in their due diligence."
So, what does this mean for the landscape of online UK casinos? Under a Labour government, the current gambling legislation would be updated, with a new online betting category added to the 2005 Gambling Act. While it's difficult to pin down the particulars of how this could affect internet casinos, you can be certain that regulations would be tightened to protect UK gamblers.
Offline and online casinos look like this in 2019: both are experiencing triumphs and challenges, whether it be financial or regulatory. How online and offline casinos will look in the future will depend on the appetite for regulatory change, the impact of Brexit, and a number of other factors – nothing is certain. What can be said with absolute certainty is that millions of people are visiting internet and land casinos, and spending huge amounts of money when they do – online and offline casinos must be doing something right.