Money has a huge impact on football.
The Premier League's Big Six earn so much from TV rights, competition wins, and gate receipts that there can never be a level playing field in the English game.
But is coronavirus going to change that?
Arsenal, Chelsea, Liverpool, Manchester City, Manchester United, and Tottenham Hotspur are potentially going to lose hundreds of millilions between them because of the Coronavirus.
The Coronavirus outbreak means there have been drastic changes to the 2020 sporting calendar.
There's currently no Premier League, no Champions League, no Europa League, no home gate receipts, no competitions, and no matches on TV – football has been suspended, meaning fans can no longer head to Bet365, Coral, or one of the other top sites covered in our casino reviews to place their matchday bets.
This means England's biggest clubs can't make money and they may have to return cash they've already received.
We've taken a look at how much money each member of the Big Six stands to potentially lose from COVID-19.
The pandemic will hit every Premier League club hard but some stand to lose more than others, with one club at risk of losing over 40% of its revenue. Who is it? We'll explain all.
"Bill Shankly famously said that 'some people think football is a matter of life and death. I assure you, it's much more serious'".
"That's long been true for many football fans, including those who support one of the Premier League's Big Six. But COVID-19 has changed life for everyone, with many living in real fear of death from the disease.
"Society has slowed for all and paused for many and the results will have a huge financial impact. Football clubs are no different and the Coronavirus will have a real cost for each member of the Big Six.
We hope that everyone stays safe and looks forward to society, life, and football returning, in Pep Guardiola's words, 'stronger, kinder ... and a bit fatter'". – OnlineCasinos.co.uk
Big Six clubs have pre-COVID-19 revenue of over £3 billion
Arsenal, Chelsea, Liverpool, Man City, Man Utd, and Spurs are all in Deloitte's list of the world's richest football clubs. Arsenal are the only club that sit outside the top 10.
The revenue for each of these clubs runs into hundreds of millions, with Man Utd alone making over £600 million every year.
And it's no surprise when you look at the money they generate from their gate receipts, advertising, player trading, and more:
Chelsea rank first for player trading – making £128 million
Man Utd have the highest matchday and gate income – bringing in £110 million
Liverpool top the list for TV and broadcasting – earning £220 million
Of course, there are plenty of high-costs that each of these clubs must pay. For instance, Man City pay their director an annual salary of over £5 million.
The point is that every member of the Big Six is a money-making machine, but Coronavirus has closed football stadiums and put the sport on hold and that's going to hit the revenue of each Big Six club.

COVID-19's suspension of football costing Big Six hundreds of millions
Every football club needs games and competitions to exist; it's what gets the fans engaged and secures advertising deals.
COVID-19 has put a stop to that.
There are no more Premier League matches, no more Champions League games, and no more Europa League clashes. Football grounds have become ghost towns.
This costs every club in the Big Six, with some looking at potential losses of close to £200 million:
Both Chelsea and Man City could lose £36.7 million in UEFA 2019/20 prize money
Every club could be without £12.8 million of UEFA prize money in 2020/21
Man Utd could be down an enormous £17.6 million on gate receipts alone
And every club could be forced to return millions in TV money if the Premier League season is voided, with Liverpool set to lose £55.2 million.
But there's one club that stands to potentially lose more than the rest of the Big Six: Man City.
Still in the Champions League, still in the FA Cup, not mathematically out of the Premier League race, and fighting the UEFA ban on their involvement in the 2020/21 Champions League, Man City could lose £202.8 millionin prize money from the Coronavirus – even with billionaire owners, that's a big loss.

Coronavirus could cost the Big Six over 25% of their revenue
The Coronavirus has already had a very real effect on how the Big Six clubs operate on a daily basis. Arsenal's manager, Mikel Arteta, was among the first high-profile sportspeople to test positive for COVID-19.
But the effects of COVID-19 go far beyond the day-to-day operations of each club. Every member of the Big Six clubs stand to lose over 25% of their total revenue and that could threaten their very existence.
Chelsea could lose the most with 40% of their revenue being threatened
Man City could see their revenue potentially fall by 38%
Arsenal might experience a 33% decline in their revenue
Even the three clubs who stand to lose the least (Tottenham, Liverpool, and Man Utd) are at risk of seeing 29% of their revenue lost to COVID-19.
Based on each club going as far in each competition as possible, the total figures for the loss of revenue add up to an astronomical £982 million*.
*As some of these clubs are competing against each other in several competitions (with only one possible winner) the exact amount would be lower.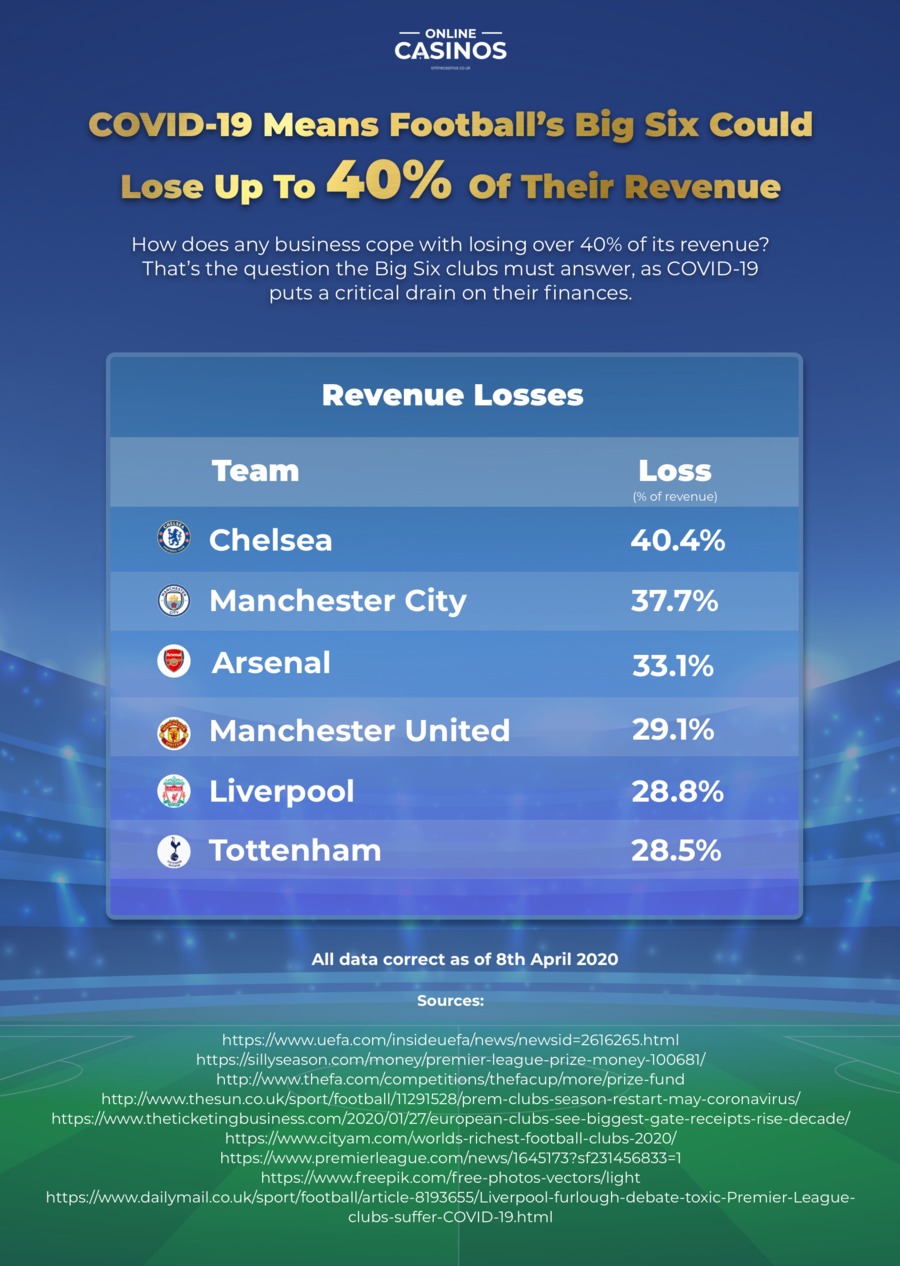 Methodology and sources
Our methodology
Football is unpredictable and no result is a given.
That's why we've calculated our figures based on each of the Big Six teams achieving their best possible season, prior to the Coronavirus forcing the suspension of football.
This means we're looking at each club winning the maximum number of competitions and finishing as high as possible in the Premier League – so that we have no bias towards any team or competition.
Our sources and data
We used a range of sources to provide us with the data points used. This includes information published by the competitions referenced, national news publications, respected data-driven websites, and leading financial institutions.
Some of this data was taken from the original source (the one that created the data) and some was taken from outlets that interpreted the data created by the source. For example, we got our data about the revenue of each Big Six club from this article by City A.M., which drew its figures from Deloitte's Football Money League.
Sources:
https://www.uefa.com/insideuefa/news/newsid=2616265.html
https://sillyseason.com/money/premier-league-prize-money-100681/
http://www.thefa.com/competitions/thefacup/more/prize-fund
http://www.thesun.co.uk/sport/football/11291528/prem-clubs-season-restart-may-coronavirus/
https://www.theticketingbusiness.com/2020/01/27/european-clubs-see-biggest-gate-receipts-rise-decade/
https://www.cityam.com/worlds-richest-football-clubs-2020/
https://www.premierleague.com/news/1645173?sf231456833=1
https://www.transfermarkt.co.uk/
https://www.dailymail.co.uk/sport/football/article-8193655/Liverpool-furlough-debate-toxic-Premier-League-clubs-suffer-COVID-19.html