Love Island is a show of chirpsing, sizzling dates, occasionally being pied off, and, of course, newfound fame. With many contestants turning to Instagram to earn their fortune after the show, we reveal how much each Love Islander – past and present – could potentially earn from the life of an #influencer.
Love Island has caught the eyes of the nation and become our new addiction, with up to 5.9 million viewers tuning in each week to watch the romantic ups and downs of the show's singletons as they search for their one true love.
Since its relaunch in 2015, the UK show has seen more than 180 contestants enter the sun-drenched Love Island villa, many of whom turn to the life of an Instagram influencer to continue their fame after the show.
Each winning Love Island couple takes home a whopping £50K, while the runners-up leave with nothing but a tan. But Instagram is a powerful platform for #sponsored content, and when followers equal profits, which Love Islanders are the real winners after their appearance on the show?
We have analysed the UK's Love Island contestants and uncovered who has the highest earning potential for sponsored Instagram content after their stint on the show. We have also looked at the jobs each star had before they entered the villa – models, influencers, singers, and more – to see what career paths are likely to lead you to the sizzling shores of Love Island.
Take a look at our findings below.
Top Instagram Earners of Love Island
Which Love Islanders have the highest possible earning power after the show? These are the top 30 highest earners based on potential income from Instagram #sponsored posts.

Winter Love Island 2020 Power Couples
Out of the four couples that made it to the season six finale, this is how much each star is likely to earn from sponsored Instagram content. With possible paydays ranging from £428 to an impressive £3,863 per #ad, it's clear that winning Love Island isn't everything…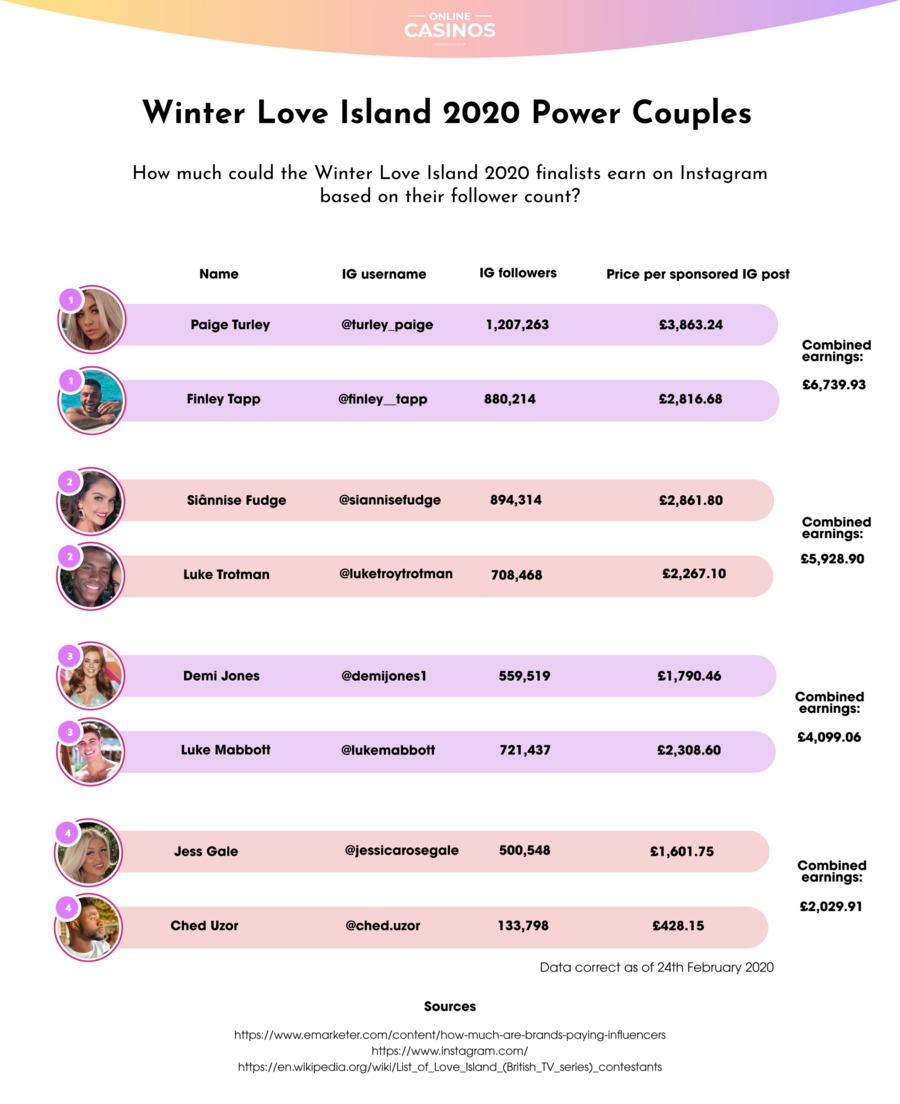 The Real Winners of Love Island
Is winning everything in Love Island? Or do follower counts make for a bigger payday? Based on current follower counts, these are the potential top earners from each season compared against the winning couples since Love Island began.
Comparing this with lottery stats, the all-time top earner makes just shy of the UK daily spend on lottery tickets in just one sponsored IG post.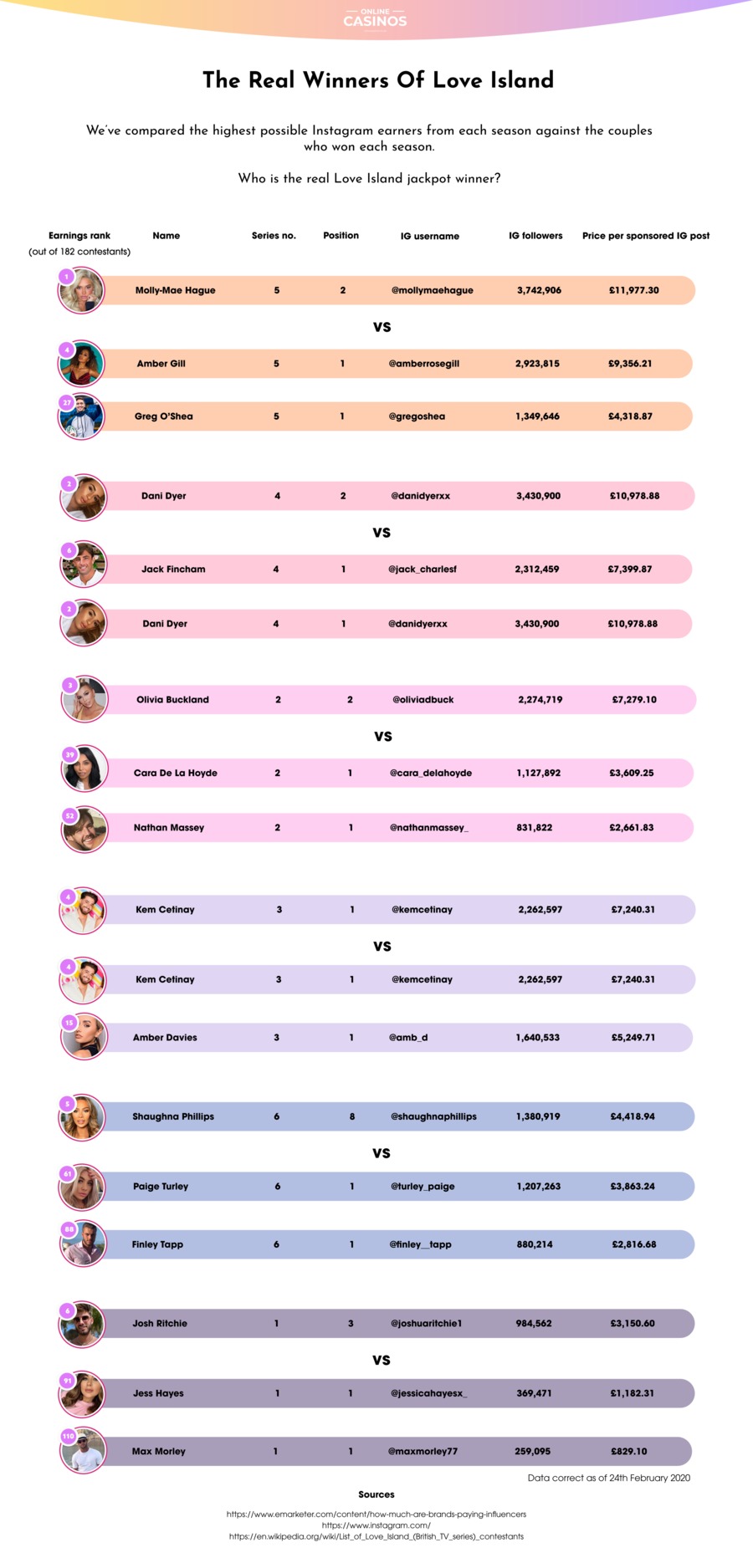 Did They Really Win?
This chart reveals how much each winning Love Islander could earn through sponsored content based on their Instagram follower count. With their stint on the island helping them grow their Insta presence, these Love Island lovebirds could be in for a big payday.
Surprisingly, just four of these finalists are in the top 10 highest potential earners overall, showing that you don't necessarily need to win Love Island to be a success. Either way, it's not a bad way to make a buck on your winter vacation.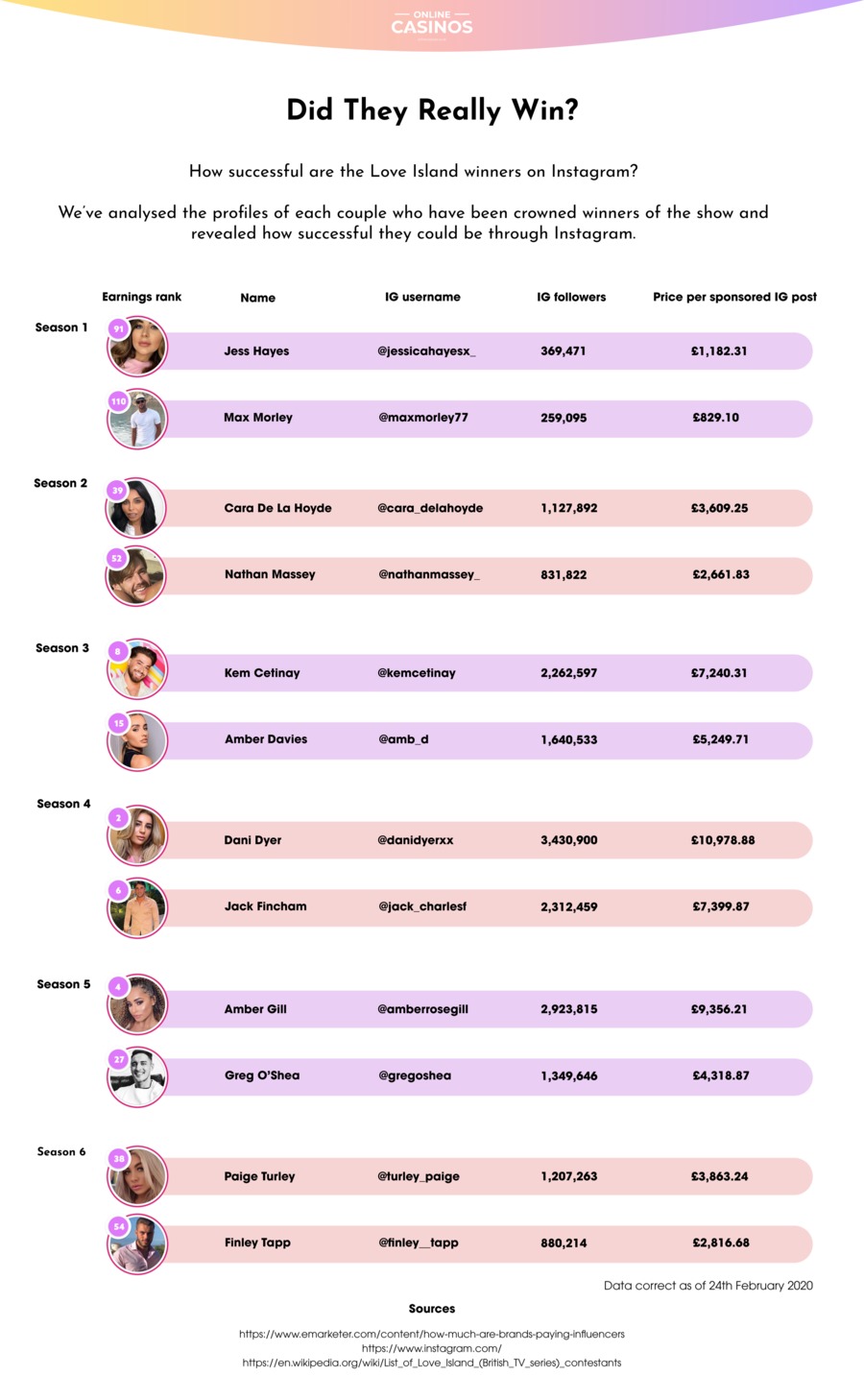 Swap The Office For Love Island
From humble beginnings, these are the most common jobs held by Love Island contestants before heading to the villa. It might come as no surprise that models and personal trainers are among the most common roles worked by the beautiful contestants.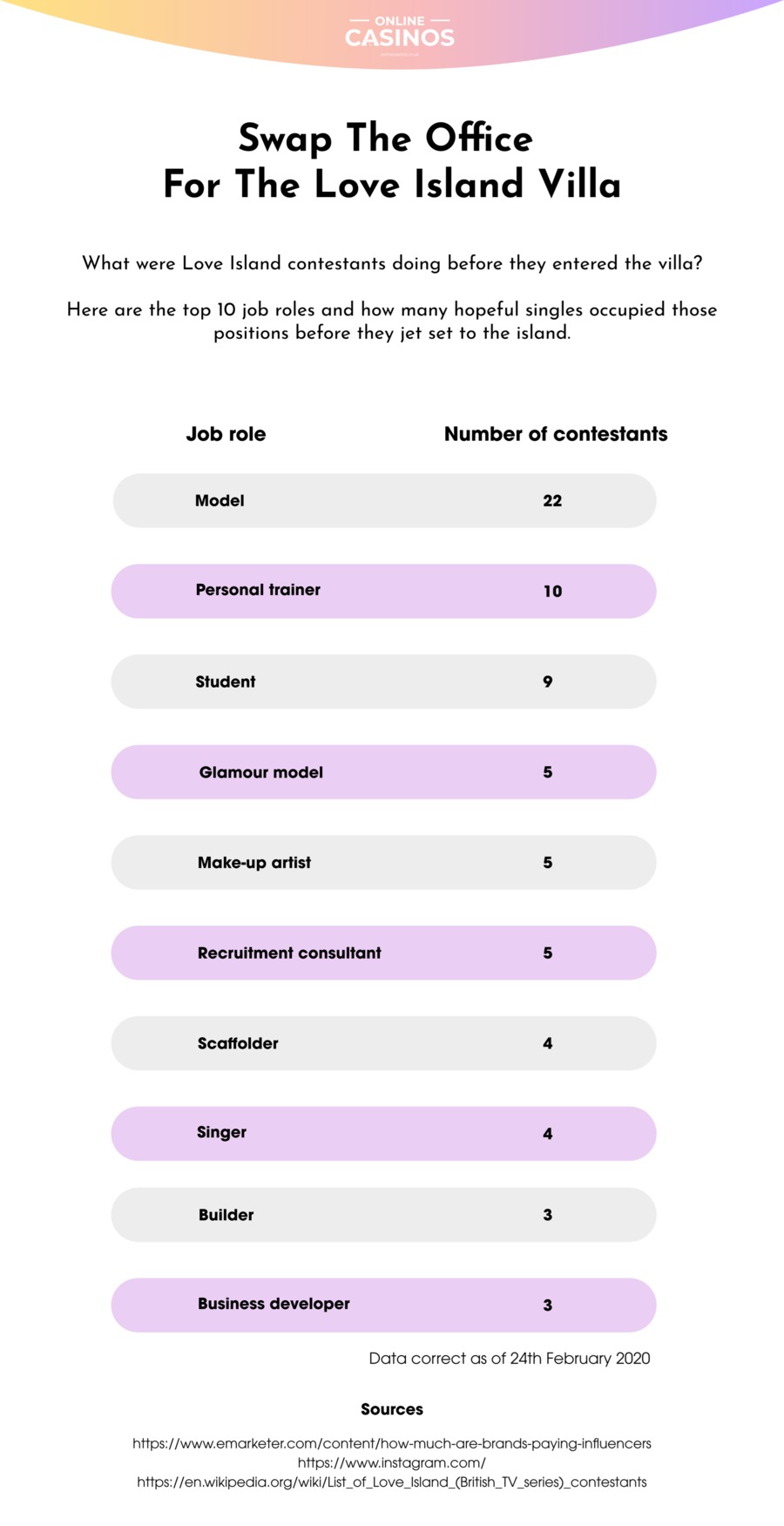 Methodology
We looked at data from 182 eligible Love Island contestants' Instagram profiles and compared it against this eMarketer study on influencer marketing. The research suggests that influencers earn an average of £0.0032p from each follower.
Based on this, we worked out exactly how much each contestant could charge for a sponsored post after their stint on Love Island.
For comparison, we also looked at the jobs each Love Islander worked before arriving on the show.
Sources:
If you're interested in similar articles by OnlineCasinos.co.uk, why not take a look at millennial success stories and how they made their fortunes?
Disclaimer
This study focused on eligible contestants who met the required criteria. For consistency, all data used was taken from active Instagram accounts, determined by regular social posting and accounts that had not been deactivated.
Throughout this study, we have handled sensitive information relating to the Love Island with the respect, care, and tact it deserves.
More From Online Casinos