PKR Games – 3D Poker Games Network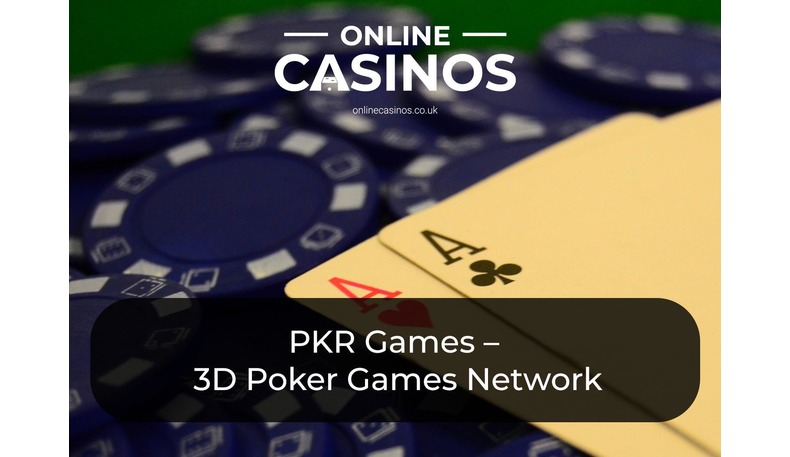 Poker is one of the most popular games in online casinos, land casinos, and homes across the globe.
3D poker is now a huge part of the gambling industry, with sites small and large offering players a chance to play games in three dimensions.
While it's now a crowded field, it wasn't always so.
PKR Poker Network was the first poker network to offer poker games for cash in a 3D environment that was totally customizable. PKR games blazed a trail for what was to come, but ultimately it's fire burned too bright and this great poker games network went out of business – with PokerStars buying up some of its assets.
Read on for the story of one of the most important websites in the history of online poker.
PKR Poker Network was the first 3D UK poker site
The PKR Poker Network started operations in 2006. It was an independent network that ran with its own software and had its own network of players. The PKR games network offered a superb interface with 3D design, which inspired its name: PKR 3D Network.
The PKR Poker Network guaranteed its gamblers the online poker experience of a lifetime, thanks to the great game range, cool incentives, and sophisticated design. This made it an online poker site that was truly ahead of its time – indeed, the major players, such as PokerStars, have now followed suit and have their own VR poker rooms.
In terms of sheer gaming experience, the PKR poker network truly delivered the goods – while VR technology was still very rough around the edges, PKR games smoothed them down as much as possible. It did this in a few brilliant ways, specifically in how your PKR games character acted:
Your PKR games character displayed body language

Your PKR games character employed expressions

Your PKR games character used chip tricks
This not only made the overall playability very high, but it also gave an element of realism that other online poker sites simply couldn't replicate.
The PKR Poker Network was licensed and regulated by the Alderney Gambling Control Commission and the UK Gambling Commission – it was registered in Alderney. All these things meant that poker fans could play PKR games safe in the knowledge that they were using a legitimate gambling site.
PKR games couldn't keep up with PokerStars & the rest
For a while, everything was gravy with PKR games – the network gained in popularity and had as many as five million gamblers at one point, with 15,000 poker fans playing simultaneously.
But that's not all.
PKR games went beyond being available in a unique 3D poker network. It partnered with the now-defunct men's magazines Nuts and Loaded to launch branded poker rooms. It also signed an exclusive license with Playtech. And to top it off, PKR games held in-person, live tournaments – the first took place in London and featured gamblers from over 150 countries.
But some good things come to an end and this was true of PKR games.
It struggled to compete with the sheer might of rivals like PokerStars and 888poker. Indeed, those two brands also used their own online casinos to add further revenue to their financial might – 888 Casino and PokerStars Casino.
The result was that PKR went bankrupt and ceased to be in 2017, leaving thousands of poker players with final balances that were yet to be paid out. That's when PokerStars stepped in.
PokerStars buy PKR games assets & help UK poker players
When PKR games ceased to be available in May 2017, there were a lot of poker players who'd played its games and built up significant balances. In fact, there were thousands of unhappy gamblers who feared they would be a victim of another Black Friday.
PokerStars saw an opportunity to both acquire thousands of new customers and secure an enormous PR win – they could be the poker brand that saved poker players from losing their hard-earned money. How? By buying up PKR's games assets.
PokerStars made a deal with the bankruptcy administrators looking after the PKR case. Part of the terms of that deal meant that PokerStars has to pay the final balance of 60,000 PKR games players.
How good was PKR's games selection?
We've made quite the fuss about PKR, and with good reason – PKR games was the first provider that allowed UK poker players to gamble in 3D, making the company a genuine visionary in its field.
But wait for a second, are we getting carried away – was there a decent selection of games for poker players, or was this a novelty act that offered one game and nothing else? We can tell you that the PKR games catered to a range of poker players.
The games available on the PKR Poker Network included Texas Hold'em and Omaha in limit, no limit, and pot-limit forms. You could also play these games on the network in SSTs as well as MSTs.
So, while PKR's games selection paled in comparison to those you now get from PokerStars, there was a solid amount – certainly enough to keep many poker fans happy.
Did many online UK poker stars play PKR games?
PKR did well to consolidate its initial player base, making big waves in its first three years of operations to secure 11,437 gamblers.
Statistical data from May 2009 showed the peak hour number at the cash game tables on the network to be about 1,100. For tournaments, this number went to 5,000 during peak hours.
At this early stage, PKR managed to overcome the problems that are the bane of new networks – low traffic, bad game range, and so on. This continued and at its peak level of operations, five million people played PKR games – so yes, plenty of UK poker stars played PKR games.
How good was the 3D software of PKR's poker games?
The toast of the PKR Poker Network was its software. The software provided stunning 3D graphics and functionality.
The software on the PKR Poker Network took customisation to new levels and provided players with a great online poker experience.
Some of the key features that the software brought to PKR games included:
Multi-table play

A great lobby

Mini-view

The ability to view your data and statistics

Hand history

Unique avatars
If that wasn't quite enough, the software used to create PKR games also gave you the ability to sneak a peek at your hole cards – quite the advantage!
PKR was an online gambling site ahead of its time, offering a 3D poker experience like no other when it was launched. PKR games were great to play and had enough diversity and great features to keep almost any poker player interested.
But PKR's tale is a cautionary one – it went out of business and left its gamblers out of pocket until PokerStars stepped in, and this was despite being regulated by the Alderney Gambling Control Commission and the UK Gambling Commission.
So, what's the lesson to take from PKR? You should regularly withdraw some or all of your winnings, so that they're in the safety of your own bank account – because you never know what tomorrow might bring.
FAQs about PKR games
What happened to PKR Poker & PKR games?
PKR poker went into administration in May 2017, meaning that PKR games were no longer available.
When this happened, PokerStars stepped in and acquired PKR's assets. In doing this, PokerStars settled the accounts of thousands of people who had played PKR games and had money in their PKR account.
Am I able to have more than PokerStars account?
You cannot have more than one PokerStars account – if you are caught with more than one account you can have all of your accounts banned.
What is the best online poker site for gamblers?
There are so many great online poker sites for gamblers to try their hand at, but three really stand out – PokerStars, 888Poker, and Full Tilt Poker.
You can also get a great poker experience from many of the best online casinos, with the top ones often featuring their own live poker rooms.