Explaining Wagering Requirements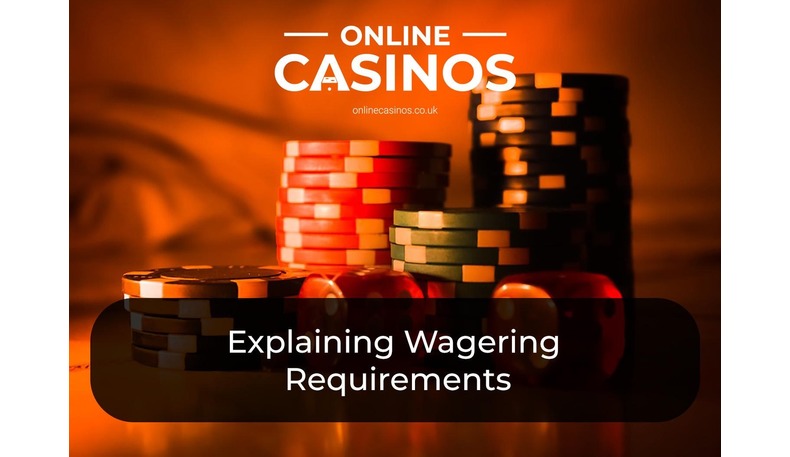 When gamblers see online casinos offering them free money, bonuses or spins, it can help to convince them to gamble at that site. However, while it might seem like you're getting something for nothing, there are conditions you need to meet to get your free money – wagering requirements.
Below we explain all you need to know about wagering requirements, from how they're calculated to whether you can beat them.
Casino Wagering Requirements Explained
There's no such thing as free money when it comes to gambling. Although many online casinos offer appealing deposit offers and bonuses, there's a catch – you will need to wager a certain amount before you can withdraw your money. This is the wagering requirement.
Wagering requirements are also sometimes called bonus rollover or playthrough requirements. A general rule of explanation for wagering requirements is that the higher the bonus rollover, the more difficult it will be for you to claim your 'free money'.
Explanation Of How To Calculate Wagering Requirements
The wagering requirement is how many times you need to match the value of the bonus offer before you can get it. It is shown as "x" the amount of the bonus offer.
For instance, if the wagering requirement for a £10 free bonus money offer is that you must match it ten times, it would be a 10x bonus. This would mean that you have to spend £100 at an online casino in order to meet the wagering requirement. Once you have hit this amount, you will be able to cash out and claim your 'free' money from the online casino.
Alongside 'bonus money' two of the other popular online casino offers that have wagering requirements are:
Deposit match bonuses: These provide a percentage match of deposits you make

Free spins: You receive a certain number of free spins (often for specific games)
Why Do Casinos Have Wagering Requirements?
Little explanation is needed for why online casinos put wagering requirements in place – it is done to prevent customers from simply taking advantage of the bonuses and then not playing anymore. The idea of the bonuses is that they encourage people to play continuously at the site, not to just give money away for free.
Casinos use wagering requirements as a way of encouraging people to play their games and rewarding them for doing so. By including an amount gamblers are required to wager before getting their bonus offer, casinos protect themselves from people who just want to play the games and run – it guarantees that they get money back from their investment in new gamblers.
Explaining How To Get Wagering Requirements Down
It's common for online casinos to have wagering requirements of up to 50 times your deposit bonus. In order to bring your wagering requirement down (to get closer to the amount you need to hit to cash out), you need to place bets on the games offered by the casino.
Some wagering requirements will demand that you play a specific game in order to bring them down. However, many bonus offers will allow you to bet on a range of games. An important thing to know when making wagers on multiple games is that some games count more than others – for instance, slot games often bring your wagering requirement down faster than table games.
Why You Should Care About Wagering Requirements?
While online casinos use bonuses as a way of encouraging gamblers to use their website (with wagering requirements protecting their investment), bonuses are a way for players to get more from their gambling experience.
The reason you should care about wagering requirements is that if you're not getting the most from them, you're depriving yourself of the full gambling experience you're entitled to. Online Casinos review the best UK casinos, so we can find the sites that offer you the best value for the time and money you invest in them. Check out our reviews section today to find out more about the wagering requirements of the top UK casinos.
Explaining The Different Wagering Requirements & Bonuses
Wagering requirements are used to manage the cash outs for a huge range of different bonuses. However, wagering requirements often relate to three different types of bonus offer: bonus, deposit, and free spins.
Explaining the wagering requirements for bonuses
You receive a bonus offer for x amount of money. In order to claim this amount, you will need to bet the wagering requirement.
Explaining the wagering requirements for deposits
Deposit bonuses pay out an agreed amount based on how much you deposited into your account when you opened it. To get your deposit bonus, you must reach the wagering requirement.
Explaining the wagering requirements for free spins
Free spin bonuses are used for slot games, giving you x amount of chances to pull the lever once you've hit the wagering requirement.
Online Casinos With The Best Wagering Requirements
Every online casino offers a range of bonuses and mixes them up regularly so that they continue to appeal to a broad range of gambler. This means that the online casino with the best wagering requirement today may no longer rank top tomorrow.
This is why it's important to regularly check our reviews section, as here you'll find up-to-date summaries of all the important ranking factors for the UK's best online casinos – including their wagering requirements.
Explaining The Wagering Requirements For Different Games
For the most part, the wagering requirement will be higher for easy to bet on games than for harder to bet on games. In the same vein, some games aren't even included in the bonuses. For example, roulette and blackjack often don't have wagering requirements applied to them for the simple reason that the bonuses can't be used with them.
The value of the bet against the requirement is usually in percentages. You may see that one game counts 100% whilst another only 50%.
This means that if you play at the 100% game, the full total of your wager will count against the wagering requirement that you must reach in order to cash out your bonus.
In the case of the 50% game, however, only half of what you wager will count towards that total. Meaning, that you will have to gamble double as much on the 50% game as you would on the 100% game to reach the same wagering requirement.
FAQs
How Do You Beat Wagering Requirements?
While it's not right to say that you can 'beat' wagering requirements, you can adopt strategies to increase your chances of meeting them as quickly as possible. The best way of doing this is to play games that count towards a high total of your wagering requirement – for example, one that counts 100%.
What Does 10x Wagering Requirement Mean?
Wagering requirements are simple to explain and understand – a 10x wagering requirement means that you need to wager 10 times the amount of the bonus in order to get it. For example, if the bonus is £10 then you'll need to wager £100 to cash out.
What Are Free Spins?
Free spins are spins that online casinos give to out to people to be used on their slot games. Free spins are not free – to get them you will need to hit the wagering requirement.