Blackjack Tournaments Guide: Rules, Types And Strategy Advice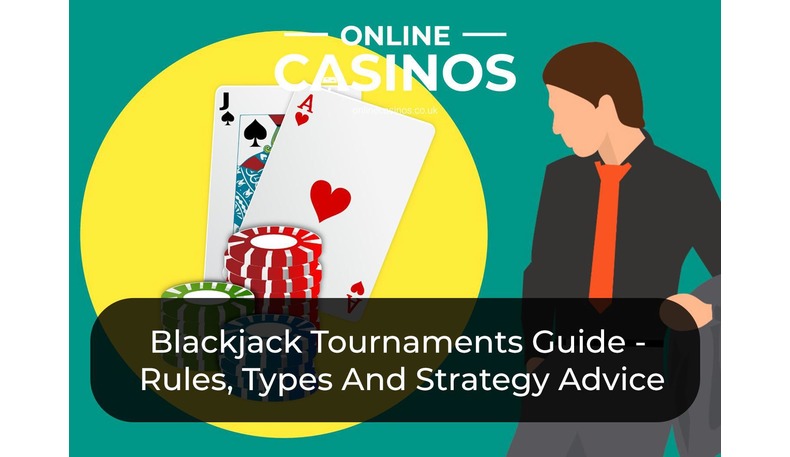 Blackjack is one of the most popular casino games, with countless people having played the game since it came into existence in around 1700.
There are two main types of blackjack you can play – casino blackjack and tournament blackjack. The former is the most popular type, but the latter can be a lot of fun – once you've got your head around it.
In this guide, we explain the difference between the two versions of the game, the different types of tournament blackjack, and the rules and strategies of the games.
What's the difference between casino & tournament blackjack?
Whether it's at a great online casino or top-class land casino, people who sit down at a blackjack table will play the casino version of the game. But while there are similarities between casino and tournament blackjack, there are also some clear differences between the two.
What are the key features of casino blackjack?
Casino blackjack is the most popular way of playing the game and these are the things you need to know about it:
You compete against the dealer

The aim of the game is to win as much money as possible

You need to have careful bankroll management because you can bet as much or as little as you want to

Card counting can give you an advantage
What are the key features of blackjack tournaments?
Blackjack tournaments are a less common way of playing. To give yourself the best chance of winning you should remember these things:
You gamble against both other players and the dealer

The aim of the game is to win as many chips as you can

You don't need to manage your bankroll as carefully as in casino blackjack because you only pay an entrance fee

Watching how your fellow gamblers play can give you an advantage
What are the rules of the different blackjack tournaments?
Like many of the best casino card games, there isn't just one type of blackjack tournament. There's a good range of options for you to choose from and you should pick the one you feel the happiest playing. Below, we explain the main types of blackjack tournament, along with their rules.
Elimination blackjack tournaments
In an elimination blackjack tournament, you have a designated table and you compete against the other players sat at it. The winners of these tables then go to a final table, where they battle it out against each other.
Accumulation blackjack tournaments
When playing an accumulation blackjack tournament, your goal is simple – you play against every entrant and attempt to win as many chips as possible. The winner is the person who has the most chips at the end of the event.
Live-money blackjack tournaments
If you're just making the transition away from casino blackjack, it might be a good idea to try a live money blackjack tournament. This is because the chips you play with have a cash value – just like a cash poker tournament. The benefit of this is you can exchange your chips for money at the end of the tournament, rather than needing to make it to the podium to get paid.
Sit 'n' Go blackjack tournaments
If you've played online poker then you may already be familiar with the concept of Sit 'N' Go tournaments. Put simply, these tournaments are lighting speed events that begin once the required number of players are at the table. This is the same when playing Sit 'n' Go blackjack tournaments and the idea is to knock out your opponents as quickly as possible!
What's the best strategy advice for a blackjack tournament?
Strategy advice for casino blackjack is pretty simple – master the basic blackjack strategy. Due to the differing natures of the games, the strategy advice for a blackjack tournament is different. Below, we give you the key strategy tips for a blackjack tournament.
Blackjack tournament strategy advice: Tip 1 – know the rules
We discussed the different types of blackjack tournament earlier in this article. As you can imagine, each type will have small variances in how you have to play the game.
Before you enter a blackjack tournament, check the specific rules you will have to adhere to – you'll almost certainly be able to find this on the casino's website, but if not there's no shame in getting a rule guide from the casino.
Blackjack tournament strategy advice: Tip 2 – play for short term gains
Whatever type of blackjack tournament you play, the aim is to have as many chips as possible. Because each round of betting has a pre-set amount of hands, a good strategy is to aim to win as many chips as you can as quickly as possible.
Blackjack tournament strategy advice: Tip 3 – think fast & act fast
With the idea of a blackjack tournament being to rapidly build up a stack of chips, there's no time for you to waste – any wastage could see the other players at your table overtake you. To avoid the risk of getting left behind, a great blackjack strategy for tournaments is to think fast and act fast.
Blackjack tournament strategy advice: Tip 4 – keep to yourself
Playing in a casino can be a great social event, particularly if you're heading there with a group of friends. But blackjack tournaments aren't about making friends, they're about making money. While we don't suggest you're rude to your fellow players, our strategy advice is that you keep to yourself and focus your attention on your game.
While there's even more to blackjack tournaments than we've covered in this guide, the key details are all here. So now that you've got a clear understanding of how they differ to casino blackjack, the different types, and the strategies you can use, head over to a top land casino and try your hand at a blackjack tournament!